NAAZE KYOUKINE


(Japanese: 狂気音ナアゼ - きょうきねなあぜ - Kyoukine Naaze)

NAME INTERPRETATION:
狂気音 (Kyoukine - Sound of Insanity/Craziness) - 狂気 means "madness, insanity, craziness" These kanji have various meanings so you are free to interpret how do you want.
ナアゼ (Naaze; Pure) - His name is arabian equal than his sister Nairu. Originally is written "Nâzeh".
TYPE: UTAUloid
MODEL: UTA-012 - His number represents "Soldier". Written in kanji "兵士".
GENDER
Male
VOICE RANGE
D3-A#4
RELATED CHARACTERS

Taro Nishine (Friend)
Temari Nishine (Friend)
Kiyoshi Hiroyuki (Friend)
Haru Oukamine (Friend)
Murasaki Kyoukine (Younger sister)
Nairu Kyoukine (Older twin sister)
Rumanika Jikone (Distant cousin)
Kori Twelves (Friend)
Ela Teino (Friend)

AGE
15
GENRE
Rock. POP, Electronic, Ballad
HOMEPAGE
WEIGHT
48 kg (98 lbs)
CHARACTER ITEM
Pencil and a scissor
CREATOR
Naruru-chan
HEIGHT
5'9" feet (180 cm)
VOICE SOURCE
Naruru-chan
PICTURE LINK LIST
BIRTHDAY
May 28
LIKES
Sing, dance, stay with her sister and protect her, help others
MEDIA LIST
SoundCloud, Youtube
RELEASE DATE

October 02, 2012 (ACT1)

May 14, 2013 (VCV)

June 02, 2016 (ReBorn)

DISLIKES
People around Nairu, bugs, false people
SIGNATURE SONG
人間が大好きなこわれた妖怪の唄, Song of The Clock Tower, Goodbye Energy
PERSONALITY: He's the twin brother of Nairu and the elder brother of Murasaki. His personality is quite similar of Nairu, but he's a bit more structural and always is behind of her (that's the thing of him that annoys so much to her).
Supplemental Information
Hair color: Short dark brown hair.
Eye color: Heterochromatic. Blue (left) and red (right).
Earphones: Black semi circular headset with white and red illumination in the right side and with white and blue illumination in the left side.
Dress: A black short coat, a short blue tank top and middle sized pants with blue, red and brown illuminations.Others: NONE.
Nationality/Race: Japanese.
Favorite phrase: "Appearances are deceiving" (外観は欺いている), "Don't touch my sister...!" (私の妹に手を触れないで・・・!).

Voice Configuration
Naaze is recorded in Hiragana for Japanese users and encoded in Romaji for Occidental users. He sings in Japanese only. He is available in the regular and triphonic voicebanks. Also he have a beta voicebank where it's mixed his triphonic and the regular voicebank together. He have 2 ACT.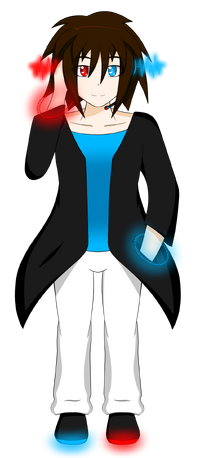 Normal Voicebanks
(For Occidental users)
VB DOWNLOAD NAAZE ACT1 (CV): DL
VB DOWNLOAD NAAZE ACT1 (VCV): DL
VB DOWNLOAD NAAZE ACT1 BETA (CV & VCV): DL
VB DOWNLOAD NAAZE ReBorn (CV & VCV): DL IMPORTANT: This voicebank doesn't have romaji aliases, only hiragana

(For Japanese users)
狂気音ナアゼ単独音: DL
狂気音ナアゼ連続音: DL
狂気音ナアゼ β1.0 (連続音・単独音): DL

TECHNICAL INFORMATION

NAAZE KYOUKINE ReBorn (狂気音ナアゼ ReBorn)
Archive FILENAME
Naaze Kyoukine ReBorn.rar
ARCHIVE FILESIZE
60.7MB
DATE RELEASED
June 02, 2016
NO. OF VOICE PHONEMES
436
TOTAL UNCOMPRESSED SIZE
109862320 bytes
PHONEME ENCODING
Hiragana
AVERAGE FREQUENCY
250.3 Hz (B3)
FRQ FILE PRESENCE
YES
LANGUAGES SUPPORTED
Japanese
UNOFFICIAL SUPPORTED LANGUAGES
Unknown
OTO.INI PRESENCE
YES
TUNED OTO.INI
YES
LANGUAGE PARSED VIA OTO.INI
NONE
VOICEBANK AUTHOR
Naruru
TECHNICAL DIRECTOR
Naruru
RECORDING SOFTWARE USED
OREMO
RESAMPLER
fresamp14
FLAGS
F1Y0H0c99B0
DOWNLOAD LINK: DL

SPECIAL NOTES:
When using his VCV, is best to set the Consonant Velocity to 200 for a better result. The quality of the voicebank is acceptable.
Community content is available under
CC-BY-SA
unless otherwise noted.