NICO KOTONE

(Japanese: 琴音ニコ - ことねにこ - Kotone NICO)

NAME INTERPRETATION:
琴音 (Kotone) - From Japanese 琴 (koto) "harp, lute" and 音 (ne) "sound".

ニコ (NICO) - Short form of Nikodemos, a Greek compound of the elements nike (victory) and demos (people, population): hence, "victory of the people."

TYPE: ???
MODEL: ???
GENDER
male
VOICE RANGE
D#3~G#4
RELATED CHARACTERS
MarU: His girlfriend

Akai: Acquaintance

AGE
19
GENRE
Pop, Rock
HOMEPAGE
Toyhou.seLink coming soon!
WEIGHT
154.32 lbs (70 kg)
CHARACTER ITEM
???
CREATOR

(illustrator)

HEIGHT / MEASUREMENTS
5'7" ft (175 cm) 
VOICE SOURCE
Arisualor
PICTURE LINK LIST
BIRTHDAY

Date of debut.

LIKES
Flirting, chocolate and cats
MEDIA LIST

(This channel is where his official videos will be posted on.)

RELEASE DATE

(Not debuted yet)

DISLIKES
Awkward situations, vegetables, being "invisible"
SIGNATURE SONGS

"Hurting for a Very Hurtful Pain"

"+Reverse"

PERSONALITY: ???
Supplemental Information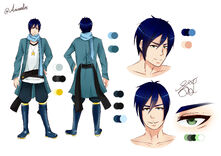 Eye colour: Misty green.
Outfit: Long turquoise jacket with a white t-shirt underneath. Blue scarf around his neck and a glowing star necklace. Three belts around his middle with one of them being a glowing star. Dark green/blue-ish pants with shiny dark blue boots underneath. A lose hanging belt on the back of his jacket.
Nationality/Race: Dutch, human.
Favorite phrase: ???
Voice Configuration
NICO is designed for Japanese language only. He does not have phonemes for other languages, though some can be improvised, but with rough results. His voice data is written in Romaji.
We are currently working on his CV and CV-VC voicebank. The link to the download will be added as soon they are ready for use.
Usage Clause
Do not change his design unless just clothing for a specific song.
Please DO NOT use any other pitches than has been given in the info above.
DO NOT change his voicebank for your own UTAUloid.
VOICEBANK
Coming soon!!
CHARACTER
DO NOT take ownership of the character!
DO NOT pretend that you are the creator of this UTAUloid!
FAN ART ETC.
Don't need to ask permission on the creator!
You don't need to copy the given personality!
Contact the creator if you have any fan art or anything of him!
Gallery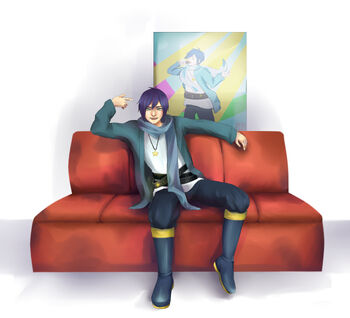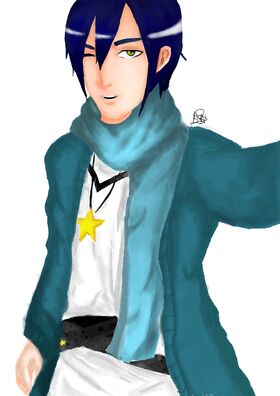 Mehgumi's Instagram
Community content is available under
CC-BY-SA
unless otherwise noted.