MUON UKURERE

(Japanese: ウクレレ無音- うくれれむおん - Ukurere muon)

NAME INTERPRETATION:

ウクレレ (Ukurere; No meaning) - His last name can also be 受け, which means Uke or Recieved.

無音 (Muon; Soundless) 

His name is a pun from Soundless Uke.

TYPE: UTAUloid

MODEL: 513

GENDER
Male
VOICE RANGE
B2 - B4
RELATED CHARACTERS
AGE

Real:3000+

Human: 14-15

GENRE

Specializes in Rock

Various genres

HOMEPAGE
None
WEIGHT
130 lbs
CHARACTER ITEM
Red Iris or Tazer
CREATOR
Crowさん (Kurokitsusan)
HEIGHT
5'5"
VOICE SOURCE

(better known as kurokitsusan)

PICTURE LINK LIST
Deviantart
BIRTHDAY
October 31
LIKES

Being alone 

Interviews 

Bunnies and tigers

MEDIA LIST
RELEASE DATE
July 19th, 2011.
DISLIKES

Trusting others

Socializing

Joking around on the job

SIGNATURE SONG
VB Release - Hurting for a very Hurtful Pain
PERSONALITY: He's a big tsundere, though in public he can be seen as a dere. Due to his past, he has a hard time trusting people and would rather work alone than with people. 
Voice Configuration and Download
- The author requests for all of Muon's voicebanks you use the flag "g+3" or "g+4" . Nothing more, nothing less. Thank you.
- Recommended flags and resamplers: Fresamp.exe - F0g+4,    resampler.exe - F0g+4,    Fresamp14.exe - Y0B0F0g+4 (To have a breathy voice, use Y0F0g+4)
His ACT 1 can be downloaded here .
His ACT 2 can be downloaded here .
His Tripitch can be downloadedhere .
Terms of Use
1) Do not redistribute.
2) Do not claim as your own.
3) Do not RP (especially R18 or Explicit public RPs)
4) Do not edit the voicebanks.
5) Do not use for commercial use without permission.
6) Credit KuroKitsuSan.
7) Do not pitch the voice to become female.
Contact information
You can contact Crowさん/KuroKitsuSan by:
Twitter: @kurokitsusan
DeviantArt: kurokitsusan
Email: psychobaki@gmail.com
YouTube: KuroKitsuSan
Concept Art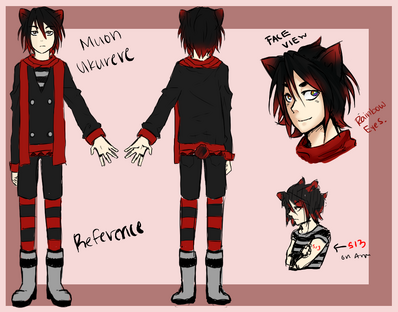 Muon is a fire breathing alien who has the animal features of cat ears and a rabbit tail. He has rainbow eyes.
Community content is available under
CC-BY-SA
unless otherwise noted.