Mizuki Kurosaki

(Japanese: 黒崎 水樹 - Kurosaki Mizuki)


NAME INTERPRETATION:
Mizuki - Author's nickname, mizu means water.

Kurosaki - Her surname means "dark destination", its explain her "darken-soft" personality.

TYPE: Ani-loid

Mode : NS-15

GENDER
Female
VOICE RANGE
G#3~G5 (CV / FINALE)

A#3~D#5 (VCV / -PARASYTE-)

RELATED CHARACTERS
AGE
17
GENRE
All genre (expect Rock)
HOMEPAGE
RM-Mizuki
WEIGHT
42 kg

CHARACTER ITEM

Sword
CREATOR
Mizuki Migine
HEIGHT
169 cm
VOICE SOURCE

Mizuki

PICTURE LINK LIST
DeviantArt
BIRTHDAY
July 15th
LIKES
Plays game online, Listening Music, Cosplaying.
MEDIA LIST
Soundcloud
RELEASE DATE
August 26, 2014 (RE:BORN)

July 26, 2015 (FINALE)

DISLIKES
Anything what makes her been annoyed
SIGNATURE SONG
Burenai Ai De

PERSONALITY: She's a tomboyish-girl with soft voice and sometimes she's act like a Tsundere. Despite her 'tsundere', she secretly loves cute things. Mizuki is also like cosplaying and shares same name with author's cosplay-stage and utaite name.
Character Design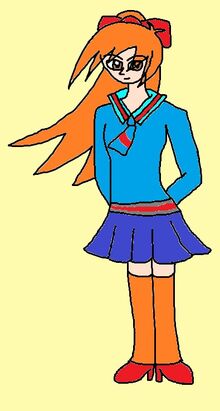 Name: Mizuki Kurosaki
Age: 17
Gender: Female
Height: 169 cm
Weight: 42 kg
Hair and Eye Color:
Black / Red (ACT Series)
Orange / Brown (RE:BORN)
Character Design: Mizuki
Voicebank
Unlike Haruka, Mizuki's voice is more like "high-pitched" version of him. Her voice are "Mezzo-soprano" type, most suited to sing more sweet melody or some song around her voice range and she's a mid-high singer range. Her best range around F4 - D5.
Current Voicebank: CV (will uploaded soon)
Future (planned) Voicebank:
"PARASYTE" VCV

Will had multi-pitch (including falsetto)
Beta-Voicebank pack just C4 & Falsetto (unknown when will released)
Check here for see one of Mizuki's cover song : Burenai ai de
Voice Configuration
Mizuki's recommended flags are BRE0B0Y0C99H3 with TIPS as her resampler.
Note: Another resampler works too (expect fresamp because its makes her voice bit off-tune)
Her male-counterpart, Ichine Kurosaki's settings flags same as Mizuki's flags, however add around G+13 to G+16 for getting Ichine's voice via Mizuki.
Notes:
This article has been written by the author of the character. Please do not edit.
Several notes from author:
- Don't edit the information or copy her voicebank and claim her as your own
- Allowed to be use freely, but NOT for sale.
- Don't make her as PITCHloid XD
Trivia
Mizuki is considered to be a Dandere.
Both Mizuki's and Haruka's last name are inspired from two characters in BLEACH.
In her newest voicebank REBORN, her hair and eyes colors are changed in order to match with the original color designs.
After the ACT series, Mizuki was putted on hiatus due I'm doing voicebank for Haruka Kuchiki but then been putted back online after Haruka's ACT 2 completed.
Fun Facts
Her ACT series voicebank are most difficult at first due lacks of sample voice and oto.ini
Due recording for her new voicebank, its hard to remaining Mizuki's voice due its a high-pitched version of my normal voice.
Mizuki's nickname is Mayoi & Migi.