MIZORI MIKAI


(Japanese: ミカイ・ミゾリ - みかい・みぞり - Mikai Mizori)

NAME INTERPRETATION:
ミカイ (Mikai; Uncivilized)
ミゾリ (Mizori)
TYPE: UTAUloid
MODEL: SENKA01
GENDER
Female
VOICE RANGE
Unknown
RELATED CHARACTERS
Lilia (same creator)
Takako Akura (same creator)
Ryuuna Osakawa (same creator)
Yuno Akura (same creator)
AGE
16
GENRE
Any
HOMEPAGE
TosyaChan's dA
WEIGHT
45 kg
CHARACTER ITEM
Drawing brush
CREATOR
TosyaChan
HEIGHT / MEASUREMENTS
162 cm
VOICE SOURCE
TosyaChan
PICTURE LINK LIST
DeaviantART
BIRTHDAY
February 18 (♒; Aquarius)
LIKES
To be alone, to draw
MEDIA LIST
YouTube
RELEASE DATE
February 18, 2012
DISLIKES
"Kawaii" or "neko" girls, cats, crybabies
SIGNATURE SONG
None
PERSONALITY: Mizori is very quiet and doesn't like to speak a lot. But sometimes, she may become rude and impulsive. She likes to be alone. Doesn't have any friends. Does not recognize any ideals. But she's that cold only on the outside. She is very cute and sweet in the inside, so only the person who can see her sweet heart may become her friend. But, sometimes she also may become grumpy. Especially if someone tells lie about her or just tries to troll her. Most of the time Mizori sits near the river and draws landscapes.
SPECIAL INFO: Due to Mizori's attachment to SENKAloids, her blood colour is light indigo.
Supplemental Information
Hair color: Light purple.
Eye color: Black (or dark gray sometimes).
Earphones: High-profile black headset.
Dress: Dark blue skirt and top. Black boots and black leather jacket.
Nationality/Race: Japanese/human.
Favorite phrase: Even the lion has to defend himself against flies.(c)

Design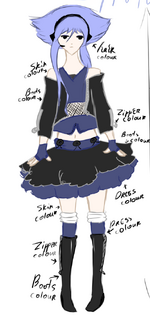 Mizori's design was made by TosyaChan. For now, she has two official designs.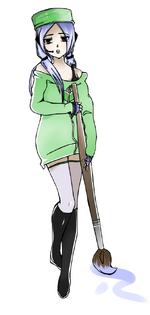 Voice Configuration
CV Hiragana/Romaji ACT02 (re uploaded) is up to download here - http://www.mediafire.com/?lpx7yr4g79x3qb3
Voice sample/demo song #1 - http://youtu.be/iDEAPCeksOo
Voice sample/demo song #2 - http://youtu.be/xLLgzJsVW7I
---
CV Hiragana/Romaji ACT01 is up to download here - http://www.mediafire.com/?6gwbhqp0alsl2op
Voice sample/demo song - http://youtu.be/HX2oZ_rMQ3c
The contents of this page can't be changed without prior notice.