Mitsuhisa Inune

Japanese: 犬ね光久 - Inune Mitsuhisa

NAME INTERPRETATION:

Mitsu means "Shine" while Hisa means "Forever". "Inune", if translated literally, means Dog (Inu) and Sound (Ne), which would become something as "The Sound of the Dog".
He's a Dog/Canine UTAUloid.

TYPE: UTAUloid / FURloid / ANIMAloid
MODEL: NONE
GENDER
Male
VOICE RANGE

A2~F#5 (CV Act1)

C2~A#4 (DARK Append CV)

RELATED CHARACTERS
AGE
19
GENRE
Jpop
HOMEPAGE
WEIGHT
193 lbs (88 kg)
CHARACTER ITEM
 None
CREATOR
Ceejay Pastrana
HEIGHT
6'1 Feet (185lbs)
VOICE SOURCE
Ceejay Pastrana
PICTURE LINK LIST
NONE
BIRTHDAY
September 29
LIKES
Dogs
MEDIA LIST
RELEASE DATE

CV ACT1 - March 23, 2014

DISLIKES

Talkative People(although he is also talkative, he just likes that he's the one to talk)

SIGNATURE SONG
Personality
Mitsuhisa Inune is a canine that shows emotion boldly, you'll easily know if he's happy, angry, or sad. He is a pop star singer wannabe. He often tries to imitate other's voices. Until he finally gains courage to show the world his own voice! At first.. He may appear shy and silent... Once you gain his trust... HE'LL BE THE NOISIEST ONE IN THE ROOM. He always do things the crazy way. But of course, he has a gentle, understanding, and caring heart. 
Supplemental Information
Fur color: Sky Blue, Has two ponytails on both shoulder. Tail has white end.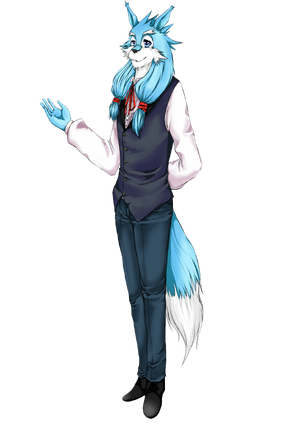 Eye color: Dark Blue
Dress: A formal type of suit. Red Bow Ribbons, Stripes of Black and Red for a Necktie.
Nationality/Species: Filipino-Japanese/Canine
Physique: Mitsuhisa has an average build.
Voice configuration
He sounds Good at mid pitches and can reach high notes with no problem.
bkh01  : Always put in "Rendering Options" F0B0H0Y0g0 to make the voice sound clear. smooth, and natural!
TIPS  : Always put in "Rendering Options" F0B0H0Y0g0 to make the voice sound clear, and natural! (Recommended on DARK Append)
VOICEBANK DOWNLOAD:
CV-VV - Very good with middle and high pitches
DARK APPEND CV - Very good with low notes
VCV
Voice Bank History
Early Recordings
Mitsuhisa Inune was first recorded with a unstable Microphone. The Creator was new to VB Making, making it's oto.ini a mess. The Voice Quality is okay and was liked by certain persons. His first Demo Cover was with a duet with Vocaloid MEIKO singing "Tsugai Kogarashi". It was featured at DeviantArt for making new and unknown UTAU known.
However, this recording was discontinued and the creator rerecorded the voice.
His first demo can be found HERE
First VB
Mitsuhisa Inune was released on March 23, 2014, as a CV Voice Bank. With a failed note configurations, his voice was unstable. But this was later fixed by Sparrow, the owner of UTAU Onen. Mitsuhisa has a bright pronounciations and sounds. The VoiceProvider did not have a permanent singing voice because he could imitate voice easily causing each recording session to have some different voices. He could sing a Female voice causing the voicebank to sound terrible and funny at low notes. His official design was released on the same date as well.
His first VB's demo is featuring the song -ERROR originally sung by Vocaloid Lily. The creator did not know what the uses of "Overlap" and "Top of Note" are, but this was later fixed.
The demo song can be found HERE
A SoundCloud Account  was made by the Creator, making it the main cover song storage for Mitsuhisa Inune.
The creator made a "Rolling Girl" from scratch to release the voicebank along with the release of the UST. Mitsuhisa Inune was released along with the song "Rolling Girl" using the simplified Voice Configuration.
The song can be found HERE
Mitsuhisa's CV VB was converted into a CV-VV VB with proper configuration by Sparrow. (It still works like a CV). A signature song was made to mark his VB Conversion.
The song can be found HERE
APPEND
​Mitsuhisa Inune DARK append is released as of June, 14 2013 as a CV Voice Bank. It's more natural sounding because it is the more natural normal voice of the voice provider.
A new concept art is released along with it (credits to nanchuxnanchii). 
The oto was polished (thanks to Ryan-kun)
and a demo song can be found HERE (mixed by Ryan-kun)
Mitsuhisa Inune photo gallery
Acknowledgement
Thanks to Sparrow for making and mixing the Signature song. (Yume no Hajima Ring Ring) and Also for configuring the oto.ini to CV-VV
Mitsuhisa Inune, all the versions related to him and all the outfits related to him are property of Ceejay Pastrana.
Thanks to nanchuxnanchii and Ryan-kun for the contributions for the DARK Append
Usage Clause
If you want to use Mitsuhisa Inune , you're free to, for NON-COMMERCIAL use only. The production of fanarts of Mitsuhisa is widely approved, and, in fact, encouraged. No restrictions are imposed by the creator related with the fanarts contents. However, you are NOT allowed to change his physique's concept, his personality, or his Voice Bank!