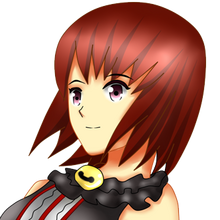 Misaki Ariza
(Japanese: 美咲アリザ- みさきありざ - Misaki Ariza)
NAME INTERPRETATION:
美咲 (Misaki) - From Japanese 美 (mi) "beautiful" and 咲 (saki) "blossom"
アリザ (Ariza) - Is the first name of the voicebank provider.
TYPE: NEKOLOID
MODEL: 13
GENDER
Female
VOICE RANGE
UNKNOWN
RELATED CHARACTER

Akuko Inorine (friend)

AGE

17

GENRE
Any
HOMEPAGE
Ariza Misaki
WEIGHT
45 kg
CHARACTER ITEM
Crimson Butterfly and Scythe (Yandere Mode)
CREATOR

Ariza (also voicebank contributor)


Diathedia (artist)

HEIGHT
5'1" feet (156 cm)
VOICE SOURCE
Ariza
PICTURE LINK LIST
None yet
BIRTHDAY
January 2
LIKES

Night-time (the air of night, the stars on the sky, the cold and the dark)

Cat

MEDIA LIST
Ariza's YouTube Channel
RELEASE YEAR
2012
DISLIKES
Bugs

Loud Sound or Voice

SIGNATURE SONG
None yet
PERSONALITY: She doesn't talk much to the people she just met. But is kind to her friends or to those who are friendly to her.
**Her personality might change in any of her songs, adapting to the base story of each song**
Supplemental Information
Hair color: Brown
Earphones: Currently transparent (A/N: ufufuf)
Eye color: Pink
Dress: Gothic Lolita style with the color of Black and Red
Nationality/Race: Indonesian/Cat
Quote: "Today was fun. I hope tomorrow will be even more fun."
Voice Configuration
Flags: H20Y5B20 / BRE0Y0H0
Please don't use her for songs that have demonic like high pitch!
List of Covered Songs
Reon [13 July 2012]
Leia [15 Aug 2012]
twitter [18 Mar 2015]
Usage Clause
There are no too-complicated-rules, it is available free of charge under the following conditions:
You comply with UTAU Usage Policy,
Custom oto.inis can be shared and redistributed with no restrictions,
Religious expression is allowed as long as the product doesn't contain offense to others,
Explicit sexual content is forbidden, innuendos or slightly risque lyrics are OK.
Violence is not forbidden at all. Please put warnings if you are to post it, though.
Don't use it for any illegal or harmful purpose.
Don't claim it as yours.
You are allowed to depict the character of Ariza in fanart, as long as it doesn't contain anything offensive.
Community content is available under
CC-BY-SA
unless otherwise noted.