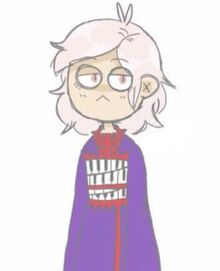 Important pieces of information
NAME INTERPRETATION:

(Mirai: Japanese: "future", Sorei: unknown meaning)

Japanese: 未来 (Mirai) ソリー (Sorii)

TYPE: UTAU
GENDER
Female
RELATED CHARACTERS

Trivy Sankakukei (friend), Blacky Aura (friend), Ran Kitsune (friend), Purisumu (friend), Bai Xiányong (friend), Trevyn Sankakukei (friend), Kanjo Onsei (friend)

AGE
18
CHARACTER ITEM
None
CREATOR
Chitacithepeace
VOICE SOURCE
Chitacithepeace
PICTURE LINK LIST
None
BIRTHDAY
May 6
LIKES
Playing the piano, her girlfriend Zahra, vanilla flavoured green tea, pictures of galaxys, flowers
Websites:
YouTube-channel: Chitaci thepeace Youtube
DISLIKES
Violence, people who judge others for stupid reasons, being ill, others being sad
SIGNATURE SONG
Coin Locker Baby
PERSONALITY: Mirai is a very quiet and calm person. She usually dreams or is lost in thought all day when alone.


Due to a weak immune system Mirai often was ill as a child and had to stay home, usually spending
that time with learning how to play piano or spending time with Zahra who came to visit her. The two of them established a strong relationship and became a couple as they were older. You can always expect Mirai to have an open ear and a cup of green tea for you if you need help, advice or comfort. Mirai is usually seen wearing a long kimono-like dress and sometimes puts some flowers as decoration in her hair.
Supplemental Information
Hair color: Pink Eye color: Pink Earphones: None Nationality: Japanese
Voice Configuration + MMD-model (downloads)
Mirai's standard Voicebank can be downloaded here (it's a CV voicebank).
The standard Voicebank contains Mirai's MMD-model.
Backstory
Mirai Sorei is a Japanese celestial spirit.
Usage Clause
VOICEBANK
Please credit the creator when you use her Voicebank!
Don't take ownership of the character's Voicebank!
You can edit her oto-ini whenever you want!
CHARACTER
Don't take ownership of the character!
Don't pretend that you are the creator of this UTAUloid!
FAN ART ETC.
Don't need to ask permission on the creator!
You don't need to copy the given personality!
Contact the creator if you have any fan art or anything of her!
No extreme gore or R-18 fanart!
Community content is available under
CC-BY-SA
unless otherwise noted.