MIRA TSUTSUMA

(Japanese: 包まミラ - つつまみら - Tsutsuma Mira)

NAME INTERPRETATION:

ミラ (Mirror) - Originally meant to be the romanized version of mirror; just happened to be similar to the English name 'Mira'

包ま (Shrouded, wrapped) - Meant to signify how her headphones were styled for her concept art

TYPE: STREloid
GENDER
Female

VOICE RANGE

ACT3: F#3-C5

RELATED CHARACTERS

Kyuuki Koko (close friend)

Maxy Sasayaku (friend)

Pengu Penginoid (friend)

Aberie (distant cousins)

AGE
17
GENRE
Rock, Upbeat/Pop 
HOMEPAGE
WEIGHT
50 kg
CHARACTER ITEM
Blueberries
CREATOR
Stre/Kermit (CometStre)
HEIGHT / MEASUREMENTS
165 cm
VOICE SOURCE
CometStre
PICTURE LINK LIST
deviantART
BIRTHDAY
January 18th
LIKES
Reading fantasy novels, eating fruit, sleeping, tart food, cats, sweaters and warm clothing, playing sports
MEDIA LIST
RELEASE DATE
February 7th, 2012
DISLIKES
Obnoxious people, vegetables, small rodents, watching TV, hot weather, sunburns
SIGNATURE SONG
PERSONALITY: Mira is generally very cheerful and doesn't mind anybody. She hardly gets angry or frustrated, and is often constantly yawning because of her poor sleeping habits and the grogginess she gets from her narcolepsy. She's lazy to a fault, but enjoys playing sports when she has nothing else to do.
Contents
Basic Information
Voicebank Information
Basic Information
Hair: Dark blue; can range from more cobalt to teal; has now been cut into a cropped bob right beneath her ears
Eyes: Bright green; wears mascara and blue eyeshadow
Headphones: Dark gray with white, yellow and green lights
Clothing: She wears a tight white turtleneck that has been cropped above the midriff and has 3/4th sleeves, with a gunmetal gray hooded vest over it. The vest has a pin with the pansexual flag on it. She has several friendship bracelets and wristbands on at all times, as she likes to fidget with them. Her skirt is navy blue with a black waistband and a small silver bow clipped to one side. Underneath her skirt is a shiny layer of cyan material that glows. Her shoes are short folded over boots with moderately sized heels, with cyan techno designs on them.
Other: She is narcoleptic, and often falls asleep a lot in the middle of activities, much to her chagrin. Although she enjoys getting her sleep, she doesn't like the confusion she gets when waking up from a session. She is pansexual, and likes to sport the flag whenever she can. She has an older sister, Rui, who teaches her subjects in school and often chastises her for not treating herself properly.
Nationality: American
Favorite phrase: "Don't wake me, please."
Voicebank Information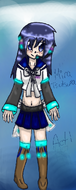 Mira has CV, VCV, CVVC and English banks, some of which are no longer available.
ACT1(2012)- Her very first CV bank, recorded with an old Logitech headset. No longer available for use. Listen here
ACT2(2012)- CV bank recorded with a new handheld mic, very robotic sounding. No longer available for use. Listen here

ACT3(2013)- Final CV bank recorded with a new handheld mic, warm and soft sounding. Listen here
PIANO(2012)- Her first append, softer than her main CV bank. Not recommended for use due to oto and mic problems. Listen here
STACCATO(2012)- Her second append, more powerful than her main CV bank. Not recommended for use due to oto and clipping problems. Listen here
BLOSSOM(2014)- Her first VCV lite, a sweet and flowing bank. Simple and easy to use! Listen here [1]

THORN(2014)- Her first CVVC bank, a sharp and edgy sounding bank. Her most recently released bank, has up to date oto's and aliasing. Listen here
NATIVE(2013)- Her first VCV bank, a natural warm sounding bank. *Be wary of the way the bank is aliased and put together, it was very different. Listen here
ADULT(2014)- Her second VCV bank, a deeper and thickly accented bank. Never publicly released. Listen here [2] [3]
PIANO V2(2014)- Her third VCV bank, a whispery and sweet sounding bank. Never publicly released. Listen here
English V1(2014-16)- Unreleased English VCCV banks that were lost with an old hard drive and will never be released. Listen here [4][5]
English V2(2018)- Unreleased English VCCV bank using CZ's full English reclist; release date TBD. Relaxed and mature sounding; still in the process of recording.
NATURAL+(2018)- An unreleased VCV voicebank to recorded to be used as her main voicebank. Release date TBD.
APPEND+(2018)- A package of append banks that will be grouped together as add-ons for the NATURAL+ bank. These appends will mostly likely be revamps of her 4 previous appends, but all CV. Will include a falsetto octave. Release date TBD
Other
All song covers can be found on Youtube or Soundcloud as linked above or by searching 'Mira Tsutsuma'. 
She has about 100 published songs on the internet, with dozens posted as WIPs or unposted.
All information listed above is certified true by the creator, and has been updated to the best of their ability as of 7/13/18.
All images to the right are illustrated by CometStre, with the exception of her first VCV design, drawn by Cookie-Catt/MishaKitty22.