Voicebank Download
(Michi's voice was changed in July 19, 2016)
Append SNOOTY CV VB download: http://www.mediafire.com/file/tjczvjh5azbw1e0/Michi+Nitten+SNOOTY.zip (Go there)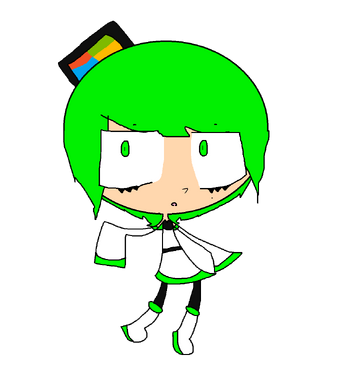 Gallery
Facts
Michi is allergic to crabs.
She likes to eat shrimps.
Likes to take bubble baths everyday.
Her favorite anime is JoJo's Bizarre Adventure.
She learns how to speak English very well.
She good at playing the electric cello.
She goes to bed at 10:30 PM.
Michi is Bisexual, which means she has a crush on Macne Petit and a unnamed boyfriend.
Likes to read Manga. (Horror manga, Yaoi, manga, Comedy manga.....etc.)
Michi wakes up at 8:10 AM. (Sometimes, she doesn't like to be waken up.)
While singing, she almost sounds like Lucy Loud. (The Loud House)
Her favorite movie is Wolf Children.
Her favorite color is green and black.
She and her unnamed boyfriend became in a relationship for 10 years.
Likes to play Bayonetta every night.
Supplemental Information
Hair color: Green
Headgear: Windows logo hat
Eye color: Green
Earphones: None
Dress: See the concept art
Others: Beauty mark on her right face
Nationality/Race: Presumably Japanese
Favorite phrase: Dono yō ni watashi wa ima made, kono yōna haisha no hitobito ni kakoma reta nodesu ka? (どのように私は今まで、このような敗者の人々に囲まれたのですか?; How do I ever, did you surrounded by people of such a loser?)
Usage Clause
Please credit the creator.
Please DO NOT edited Michi's voice.
You MUST ask for permission to roleplay Michi.
Please DO NOT edited this page. Only StudioBob KillerPants/ZorchtheTorch can edited this page.
Community content is available under
CC-BY-SA
unless otherwise noted.