| | |
| --- | --- |
|   | Meiji Galaxy |

GENDER
Male
VOICE RANGE

C3~C6

RELATED CHARACTERS

Reza (Half Brother)

XYZNeko (Friend)

Bunsen Berubetto (Friend)

AGE
12
GENRE
Any
HOMEPAGE
None
WEIGHT
90lbs
CHARACTER ITEM
Magic wand
CREATOR
HEIGHT
4'8"
VOICE SOURCE
MollyTheCoolCat
PICTURE LINK LIST
TBA
BIRTHDAY
May 25
LIKES
Magic, candy, music
MEDIA LIST
YouTube (1)SoundCloud (1)
RELEASE DATE
May 26, 2015
DISLIKES
Science, Ghosts
SIGNATURE SONG
Cyber Thunder Cider
PERSONALITY: Meiji is a shy little boy, though can get very hyper at times. He loves to do magic tricks for his friends, and especially his older brother Reza, who he really wants to impress. He is a very sweet kid who means well, and always tries to be as kind as he can.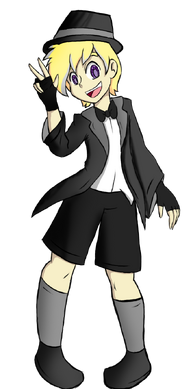 Character Design
Hair Color: Blonde with gray streaks
Eye Color: Starry purple with light purple pupils
Headgear: Gray top hat
Headphones: None
Outfit: Gray coat with a white button up shirt and bowtie, black shorts, light gray knee-high socks with black shoes, black fingerless gloves
Nationality/Race: Australian / Human
Voicebank
Released Banks:
( resampler: EFB-GT or fresamp ;; flags: BRE0C10H10P90Y0g-3 )
Planned Banks:
Fun Facts
Meiji very much looks up to his older brother, Reza
Meiji and Reza are half brothers, sharing the same father
He likes to pretend to be a wizard, he even makes sound effects to himself
He keeps his wand on him at all times
Massive Doctor Who and Harry Potter fan
Meiji is part of the UTAU Freak-Nation group.
Rules
General:
Be nice to him
Nobody other than the creator can distribute his voicebank.
Nobody other than the creator can take credit for him.
Voicebank & Content
DO NOT change any sounds in his voicebank.
DO NOT change his basic design very drastically (unless it fits a certain song).
DO NOT involve him in any offensive content.
DO NOT genderbend him or make a Pitchloid of him.
Editing the oto.ini is fine, but do not distribute it.
Use in violent/gorey/horror content is fine.
Use in sexual R18+ content is fine.
Roleplay
Roleplay is fine, just ask the me before you do so.
Please don't roleplay out of character.
Fanfiction/Fan Art
Use in fanart and/or fanfiction is appreciated, and be sure to send the me a link to the art/fic that he is used in!
Yaoi is fine (just nothing R18+).
Community content is available under
CC-BY-SA
unless otherwise noted.