MARIE NAGANO


(Japanese: 長野 マッリ ユキコ - ながの まっり ゆきこ - Nagano Marri Yukiko)

FILIPINO NAME: Maria Yukiko Harana Nagano

ALIAS: Marie, Yuki, Cosette (human name)

NAME INTERPRETATION:

Nagano; Naga No; Long Field - This is a real surname and a Prefecture in Japan.

Maria - It's common for girls in the Philippines to have names from the Bible, this time Maria also has another meaning: bitter, from Hebrew Marah. Please note that Marie is spelled in katakana with a ッ. This means her name is pronounced with a rolling R.

Yukiko - a joke on the fact that her first voicebank was a result of copying Yuki Kaai's voice. Also has a double meaning: vampire in Japanese is Yuki-onna, or snow lady. Being a loli, she is a snow girl=Yuki-ko

Harana - means "another name" in Japanese (Hara na) and "serenade" in Filipino

Cosette - After a character in Les Miserables. They share similar histories, but the similarity ends there.

TYPE: Haranaloid - from Harana-san and her middle name.
MODEL: NONE
GENDER
Female
VOICE RANGE
E4-C5

(It's possible and sometimes unavoidable to hit notes above or below her range, but make sure that most of the notes are in this general area.)

RELATED CHARACTERS

Aya Harana (TBA)

Ara Harana (TBA)

Ami Harana (TBA)

Ali Harana (TBA)

AGE
??? (She doesn't remember her past; However she likes saying she's 12)
GENRE
Pop, jazz, OPM, cutesy-horror, most Miku and Rin songs
HOMEPAGE
WEIGHT
73 lbs (33 kg)
CHARACTER ITEM
Brioche/Bread Knife
CREATOR
Harana-san (Rina Hime/LittleMissMimic)
HEIGHT
4'3" feet (130 cm)
VOICE SOURCE
Harana-san (Rina Hime)
PICTURE LINK LIST
-None-
BIRTHDAY
May 12 ----
LIKES
AB-, dark chocolate, Len Kagamine, Ryan Moriyama, shotas in general, knives
MEDIA LIST
YOUTUBE, deviantART
RELEASE DATE
May 12, 2012
DISLIKES
Rin Kagamine, Lin Haine, Yuki Kaai, lolis in general, O, vegetables, werewolves, garlic, sunlight
SIGNATURE SONG

Ako ay May Lobo (Demo VB)

PERSONALITY: She is very unpredictable and often sadistic. She has a very bad memory, to the point that she can't remember the lyrics. Marie can be very angsty, but can never hold a grudge because she forgets why she was angry in the first place. Her personality varies from all the 'dere'-types: yandere, tsundere, kuudere, and dandere, depending on her thirst. She is very, very proud and can be a snob to strangers, but warms up ...eventually. Instead of swearing, she says "sweet brioche~".
Supplemental Information
Hair color: Black, but her author usually colours it a dark gray.
Eye color: Anything from Blue to Red depending on mood and thirst. Pink when she's in love or excited, and rarely, Black when she's depressed. Usually a balance between blue and red = purple.
Dress/Outfit: Mostly long-sleeved black clothes. Officially, a black jacket with a white lace sando inside and a black skirt.
Shoes: None. She wears white knee-high socks.
Headgear: A large ribbon (coloured to match eyes), pearl earrings with gold studs
Nationality/Race: cannot be determined due to memory loss after vampire transformation

Species: Vampire.
Favorite Phrase: "NYA~!" and "Hypoglycemically sweet brioche..."
Other Related Characters
Ryan Moriyama | Coffee | Aliciané | Ame Shirohi | Koritama Shuchou |  Taiyo Raikone | Yuko Yasashine | Kamirei | 
Trivia
The name 'Marie Nagano' was found by the author in an old Japanese textbook given to her. Before this, Marie's name was Mimiku Harana (a portmanteau of 'Mimic' and 'Miku'). Marie Nagano is a relative of the author. However her full name is purely made-up (changing Marie to Maria, Yukiko, Harana).
Marie has the same birthday as her author.
She can detect blood type just by smell, and prefers AB- (a rare blood type) to O (very common). When she was human, her blood type was AB-.
Marie seems to have no desire to control her bloodthirst. She is a 'killer' type of vampire, meaning once she starts feeding, she can't stop. However, very sweet chocolate-filled brioche may be used as a substitute when no blood is available.
Kagamine Len is listed as her 'obsession'; This can mean both love and hate, due to the fact that she is bipolar. It could also mean that she is after his blood. The same 'obsession' applies to all shotas.
As her source's voice still hasn't matured yet, Marie's voice will probably 'age' over time, ironically she is immortal, being a vampire.
Marie is after the complete control of the human blood supply for all vampires.
Her default expression is a supercilious glare/observance. Please note this when making art of her.
Sunlight affects her by giving her an intense sunburn, she is allergic to garlic, and has no reflection because her skin does not refract light. Her 'blood' (venom) is black because she has no hemoglobin.
Marie's knees turn in slightly (she is knock-kneed) so that she stands straight with some difficulty. Please note this when illustrating her.
Portfolio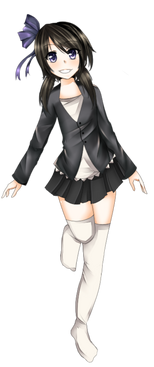 Illustrations
Songs
With Videos
DEMO voicebank
ACT1
Voice Configuration
To make her sound the way she is supposed to, the user must 'fit' the UST and add this tag: b0Y0h30g-0c75F1
Marie works best with TIPS or EFB-GT. Also please Compress and Equalize her voice with care during mixing. When dueting/chorusing, Marie's voice tends to rise above the other voices or turn chipmunk. Please lower her volume or add to the h (up to 50) or Y (up to 20) flag to prevent this. The g+3 flag may also be used to stop the chipmunk effect.
Her DEMO voicebank, in Japanese, is no longer being distributed.
Her ACT 1 was released on May 12, 2012.
Upcoming voicebanks include: Appends, Japanese VCV, English VC-CV, Filipino VC-CV, Spanish, and French.
TECHNICAL INFORMATION

NAGANO MARIE (長野マッリ)
ARCHIVE FILENAME
Marie Nagano.rar
ARCHIVE FILESIZE
17 705 KB
DATE RELEASED
May 12, 2012
NO. OF VOICE PHONEMES
302
TOTAL UNCOMPRESSED SIZE
-
PHONEME ENCODING
Romaji
AVERAGE FREQUENCY
395.0 Hz (G4)
FRQ FILE PRESENCE
YES
LANGUAGES SUPPORTED
Japanese, Filipino, English - partial
UNOFFICIAL SUPPORTED LANGUAGES
Spanish
OTO.INI PRESENCE
YES
TUNED OTO.INI
Yes
LANGUAGE PARSED VIA OTO.INI
UNKNOWN
VOICEBANK AUTHOR
Harana-san
TECHNICAL DIRECTOR
Harana-san
RECORDING SOFTWARE USED
OREMO
DOWNLOAD LINK: ACT1 (updated)
Usage
1. Users may use the voicebank wherever it is legal. Nothing is needed except credit to Harana-san. Any commercial usage (for profit) needs permission from the author.
2. Religious representation is partially permitted for Christian/Catholic songs, hymns, carols and other common songs and chants. Usage for other religions is not allowed.
3. Hentai and other themes involving Marie are conditionally allowed but not encouraged. Proper warning must be given to the viewers and illustration must be decent and tasteful.
4. Marie's voicebank may not be sold or redistributed for profit.
5. Works featuring Marie, (songs, literature, manga/anime and others) are allowed and appreciated. Credit must be given to the author.
6. Editing of the oto.ini is fine as long as it is to improve voice quality. Repitching of the voice samples is not allowed, nor is the user permitted to claim the voice as their own.
7. Contact the author if you make her sing. Subscription to LittleMissMimic or +watch to Harana-san is not required as well, but much appreciated.
This article is written and certified true and correct by the author of the character, Rina Hime. The details seen here may be subject to change without prior notice.
Community content is available under
CC-BY-SA
unless otherwise noted.