Supplemental Information
Hair color: Reddish orange hair with violet strands.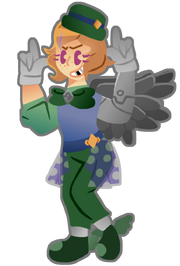 Headgear: Green fedora hat.
Eye color: Dark magenta.
Outfit: Fancy unissex wardrobe, may vary, but always inspired by 20's.
Nationality/Race: Human/Cyborg/Zombie, American.
Favorite phrase: "That's all Folks!" (when her show ends)
Voice Configuration
At the moment, a Japanese CV voicebank. Her voice data is written in Hiragana and Romaji.
Terms of Use
R-18 Content Allowed? Without Permission 
Commercial Use of Voicebank Allowed? With Permission
Commercial Use of Character Allowed? With Permission
Do these terms apply to derivative characters/voices? Yes, but derivates must be created with permission.
(for full terms of use, please read the "readme" file.)
Voicebanks & Models
Keep in mind that these voicebanks are old, and some of them might be unstable.
Newest Version
ACT 2 Furaingushain: (better audio quality and nice oto.ini): MEDIAFIRE|BOWLROLL
Older Versions
ACT 1 Furaingushain: MEDIAFIRE
Early Access VB: MEDIAFIRE(VB to be fixed)
Future Voicebanks
Margaret White (Definitive Edition CV): Not started
Margaret White TENSHI (append): Not started
Margared White AKUMA (append): Not started
Music
Trivia
Margaret was been planned since 2015;
"Furaingushain" was Margaret's actual name, but since the 2020 rework, it's now a codename;
She was previously bisexual, however, in the 2020 rework she's homosexual;
She suffered design alterations in 2017 and 2020;
She has a bad habit for eating too much food;
In the making of ACT2, she has introduced in a UTAUloid group/band called "RushiloiD";
One of her future appends where previously named as "TTYFANNY", but as since in the point of view of the creator it sounded weird, it has been renamed to "TENSHI", which means "Angel", to match the "AKUMA" append.
Gallery
Community content is available under
CC-BY-SA
unless otherwise noted.