Mami TJHAN


(Japanese: まみ ちゃん - マミ チャン )'TJHAN' read as 'chan'

TYPE: HOODIEloid
MODEL:CV

03

- imprinted on her left chest
GENDER
Female
VOICE RANGE
C3-C5 (F#4)
RELATED CHARACTERS

Himane Miu (Beloved one)


(Beloved one)

Akumane Yuuto (Beloved one)

(Enemy) TDJHOEN (Partner)

(Daughter)

AGE

19

GENRE
Any
HOMEPAGE
ICS UTAU main blog
WEIGHT

35 kg

CHARACTER ITEM
Sytche and Bread (optional)
CREATOR

In Chan Sakura/ ICSanimangalovers13/ ICS_13

(YT) (DevianArt) (Pixiv) (Blog)

HEIGHT / MEASUREMENTS
143 cm
VOICE SOURCE
In Chan Sakura/ ICSanimangalovers13/ ICS_13
PICTURE LINK LIST
(DevianArt) (Pixiv)
BIRTHDAY

9 May 1992

LIKES
Flirt with peoples [both girl and boy, anyone she thinks attractive], bread, milk, cute stuffs.
MEDIA LIST
RELEASE DATE
3 December 2011
DISLIKES
Left behind, stuck in some place, can not get something she want.
SIGNATURE SONG
Sweet Devil

PERSONALITY:
She's one of yandere out there. She is trapped inside of 12 y.o body due the fact she has a weird disease that whenever she get an experience that shock her and make her in trauma state,
she'll fall asleep for 1-2 years. She has this cute atittude to cover her yandere side and childish side to cover her mature side. She act innocent and stuff, a total liar. She also related to TJHOEN by Aicchun. She loves Miu Himane and Tsubasa Kamine also everyone else but she hates Aiko Ryoshi because she always together with Tsubasa Kamine and Miu Himane and maybe another reasons too.
Also she's part of Hoodieloid and her number is CV 03.

Warning! She's a psycho!
Character Design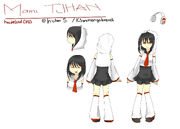 Hair color: Almost Black
Eye color: Brown
Shirt: Black or dark gray
Jacket: White
Pants: A black or dark gray skirt
Feet: White with red paddings below
Nationality: Indonesian-Japanese
Voice Configuration
Mami's voice is by default, encoded in Hira and Romaji. Currently her ACT 2 voicebank supports both Hiragana and Romaji.
ACT 01
Fellow HOODIEloids
Usagi
Aoi Tamashi
Revo Otome
Natsuno Kyou
Yuki Samui
Kirei Oheina
Megao
Facts
She is a yandere.
She will flirt with anyone which mean there's an possibility of straight and yuri.
Total liar.
Has a weird disease which is when she suffer a lot of stress she will sleep more than a month or a year.
She is stuck in her 12 year old body.
TDJOEN or TJHOEN partner.
Hate Aiko Ryoshi very much.
Piss her off and meet your grave.
Usage Clause
Do not change any appearances that already be given out unless there is changes that have been made by the creator.
Avoid any mary-sues.
Please DO NOT pitch the voicebank.
Allowed to be use freely.
Ask for permission first if need to use the name for a Role Play.

Certified true and correct from Mami TJHAN's creator, In Chan Sakura or ICSanimangalovers13. Please do not change anything here without my permission
Community content is available under
CC-BY-SA
unless otherwise noted.