Makene Ao


(Japanese: まけねあお//Make音あお)


NAME INTERPRETATION:
Make音 (Makene) - This is a pun on how he is a fan of the MACloids
 あお(Ao; (青) - Blue

TYPE: Makeloid
MODEL: M01
GENDER
Male
VOICE RANGE

Circus:F#2~E5

2s:G#2~D5

Jun:A#2~C#6

Moon:G#2~C#6

RELATED CHARACTERS

KaiKai Kim
(Idol)
Yuett Egao
(Idol)


AGE
7
GENRE
Any
HOMEPAGE
Makene Ao Oficial Page
WEIGHT
58Kg
CHARACTER ITEM
Pillow
CREATOR
MakeneProject
HEIGHT / MEASUREMENTS
160m
VOICE SOURCE
Kisaragi Jin
PICTURE LINK LIST
Circus Design
BIRTHDAY
February 15
LIKES
Sweet Food , bunnies , Sleep , sing
MEDIA LIST
SoundCloud Youtube
RELEASE DATE
February 15 , 2013
DISLIKES
Bullies, salty food , snakes
SIGNATURE SONG
Vb Circus Demo Moon CvvC //he is the Miku Part
PERSONALITY:
Makene Ao is described as a neat and innocent child with a great love for music, the always go singing and dancing, always trying to improve if itself in what it is singing and it is always improving

Character Design
Hair color: Short black hair and longer Orange fringes
Eye color: Yellow
Shirt: Clown clothes , orange and black
Arm-warmers: he doesn't have
Pants: Clown pants
Feet: White shoes
Other: Has an ahoge
Nationality: Chilean//Japanese

Catchphrases
"Do re mi fa sol la si do~ 私はそれがより高かったと思います~
Translates into: "Do re mi fa sol la si do  I think it was higher~
Voice Configuration
Ao's voice is childish voice in the VcV,It used to sing songs in a high range , the cv's and CvvC's  have a more masculine range

The CV and CvvC voicebank is encoded in Hiragana and Romaji.
The VCV voicebank is only encoded in Hiragana.
Voicebank Downloads
■ CV
Makene Ao shout: it has 4 tones F3, G3, E4, F4 and an extra one for powerful songs (for use should be placed on the SufrixBroker the letter "*" (eg. あ *) will be re-hara the autumn . it is recommended to use with flag FY0BRE0H0F0L5g-3 and TIPS.exe
Download: not enabled

■ VCV (2s)
Simple CV tone (C4) the oto was it created by A fakinshiken and  Reviewed by Max Tajiri, it is recommended TIPS.exe
Download: VcV 2s
Recommended resampler for lower songs: vs4u
Recommended resampler for higher songs: resampler.exe
Recommended flags: FY0BRE0H0F0L5g-3

■ VCV (Circus)
It has the B3, C4 tones and F # 4 , It's stable voicebank
Download: Circus
Recommended resampler: Tips.exe
Recommended flags: FY0BRE0H0F0L5g-3

■CvvC (Moon)
has a voice that grows from a soft and serious tone to a loud and clear tone, is multi-tone and has a clear,and stable voice
Download: Not yet released.

Extra Character Relation
DO NOT CHANGE OR ADD ANY INFO ANYWHERE ON THIS PAGE.
Makene Belli (sister)
'Makene Aka' (Old Brother)
Nakane Roll (Girlfriend)
Nariki Poka  (Idol)
Kear Tajiri  (Crush(?))
Rukasu (Best Friend)
Facts
Ao is Pansexuall, which means he thinks personality is more important than gender.
He dislikes being romantically paired with shotas/young boys/traps.
Ao is his first name and Makene is his family name.
Enjoys the Book's and cooking desserts
Usage Clause
Please ALWAYS credit me for my UTAU's.
You can change his design , Only if you can ask me first
Please DO NOT use any other pitches than has been given in the info above.
Allowed to be used freely.
If you wish to use him for RolePlay please ask me first.~

When uploading anything featuring Ao, please remember to put "Makene Ao" in the tags.
Concept ART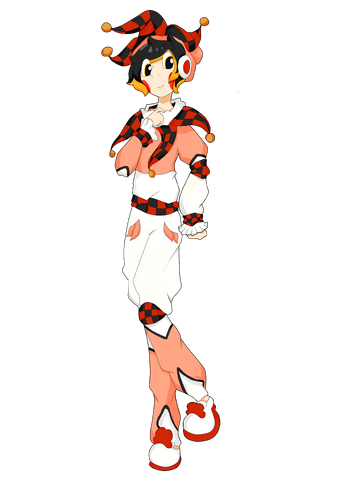 Community content is available under
CC-BY-SA
unless otherwise noted.