MAI UTA

(Japanese: マイ歌- まいうた- Mai Uta)

NAME INTERPRETATION:
望音(Nozomine; Desired sound)
マイ(Mai; Brightness)
歌(Uta; Song)

TYPE: RCLoid (UTAULoid) - RimoConLoid
MODEL: RC-1101 - (RC means RimoConLoid, show by her fast backward button on her headphone. 1101 is her birthdate, imprinted on her left arm.)

GENDER

Female

VOICE RANGE

C4~C5

RELATED CHARACTERS

Dai Uta (Genderbend (g+13))

AGE

Unknown (Appears to be 13 or 14)

GENRE

Any

HOMEPAGE
WEIGHT

37kg

CHARACTER ITEM

Chocolate cake with strawberry on top

CREATOR
NayukiMarcia (DA) (YouTube)
HEIGHT / MEASUREMENTS

150cm

VOICE SOURCE

NayukiMarcia

PICTURE LINK LIST
BIRTHDAY

November 1

LIKES

Singing, Anime and Manga (She is an Otaku), Sweets

MEDIA LIST
YOUTUBE
RELEASE DATE

November 1

DISLIKES
Thunder, Someone annoying, to be called an Otaku
SIGNATURE SONG
Light Song
PERSONALITY: Mai Uta is a kuudere; she acts cold to others but actually cares about them. She secretly likes to watch anime and reads manga. Mai is a curious and innocent person; she likes to observe things to know more about the things around her.
Character Design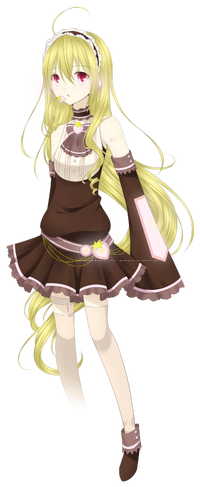 Hair color: Gold
Eye color: Rubine Red
Headgear: Dark Bole and light Pink colored headphone with Copper Rose colored frills
Shirt: Dark Bole colored sleveless top with choker frills, Copper Rose colored ribbon with strawberry on it and light Pink lining and buttons
Skirt: Dark Bole colored with Copper Rose colored frills, belt and light Pink lining
Feet: Antique White colored socks with dark Bole and Copper Rose colored ankle-high boots with light Pink lining and buttons
Nationality: Indonesian-Japanese











More Related Characters
Fellow RimoConLoid:
Friends :
Voice Configuration
Voicebank ACT1
Support Hiragana and Romaji Download ACT1
Voicebank ACT1.5
Support Hiragana and Romaji Download ACT 1.5
Voicebank ACT1 -ReACT-
Support Hiragana and Romaji, better quality Download ACT1
Facts
Not related in any way to Miu Nozomine
Her actual name is Nozomine Mai but she preferred to be called Mai Uta
She uses boku(僕) to refer herself
Likes to be patted on the head
Get along well with Akika Mokone
Usage Clause
Do NOT change her design.
Do NOT claim her as yours.
Do NOT pitch his voicebank.
For NON-COMMERCIAL use only
Do NOT redistribute or edit her voicebank
Please DO NOT change anything here without my (Nayukichan's) permission!
Community content is available under
CC-BY-SA
unless otherwise noted.