MACKNE MIMI


(Japanese: Mack音ミミ - まっくねみみ - Makkune Mimi)

NAME INTERPRETATION:
Mack音 (Makku; Mac)References the Macintosh computer systems by Apple, Inc.; (Ne; sound)


ミミ (Mimi; French for faithful guard)

TYPE: Eppalloid
MODEL: i³
GENDER
Female
VOICE RANGE

D#3~C6
C#3~A5 (勇)

RELATED CHARACTERS

Mama Mackne (Adoptive mother)
Naga Mackne (Adoptive father)
Kyou Mackne (Adoptive brother)
Kioshi Mackne (Adoptive sister)
Neneki Mackne (Sister)
Sai Mackne (Nephew)
Sae Mackne (Niece)
Mizu Merodii (Friend)

AGE
19
GENRE
Ballad
HOMEPAGE
Mimi's Page
WEIGHT
120 lbs.
CHARACTER ITEM
Macbook Air
CREATOR
Inochi-PM and Misha
HEIGHT / MEASUREMENTS
5'6"
VOICE SOURCE
KazukoP
PICTURE LINK LIST
Concept art,
pixiv, deviantArt
BIRTHDAY
June 10, 20XX
LIKES
Plums; all things violet; company
MEDIA LIST
YouTube, SoundCloud, CLYP
RELEASE DATE
December 29, 2013
DISLIKES
Prunes; brown; being abandoned
SIGNATURE SONG
N/A
PERSONALITY: Mimi is very gentle in nature, and she gets flustered over the little things.
Character Design
Hair:

Violet; Straight bob cut that reaches down to her chin; Bangs go straight across below the brows.
Eyes: Violet.
Head: Black bow with light violet stripes on the left side of her head. A light grey microphone is attached to her, resting by her mouth.
Shirt: White long-sleeved shirt with a tail, with metallic grey grating on the inside. The shoulders, axillae, and stomach are exposed. The collar is made of metallic grey grating. A square black and violet logo with an "F" off center sits on the middle of the chest, and a black bar is marked on the right side of the breasts.
Arms and Hands: Black sleeves cover her forearms, reaching the wrists. Her fingernails are coated with illuminated violet nail polish.
Pants: Black bell-bottoms that are slit down the middle of the calves, with metallic grey grating on the inside. The waistline is V-shaped, exposing a light violet underwear or shorts.
Boots: White boots with black heels that at least reach up to the knees. They are designed to resemble an Apple Magic Mouse.
Nationality: Japanese.
Voice Configuration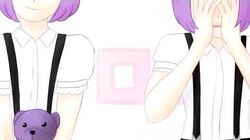 Mimi's voicebank is configured in hiragana with romaji aliases. She is currently in Act 4, and she has an additional
courage
(勇) voicebank.
Download link will be posted.
Some details are based on existing information. The details seen here may be subject to change without prior notice.
Trivia
In order to save her original design, Inochi adopted her.
The approach on her voice was inspired by Mary Elizabeth McGlynn.
Community content is available under
CC-BY-SA
unless otherwise noted.