MILLYA


(Japanese: ミリーア - みりーあ)

NAME INTERPRETATION:
ミリーア (MILLYA; Miriia) - Author prefers her name to be called "Miri".
TYPE: RikaLoid - (Can also be shortened "RL".)
MODEL: R01 - (First product of Rikaga's UTAU series.)
GENDER
Female
VOICE RANGE
C#4-C#5 (Best around C#4, MILLYA is a low-ranged UTAU.)
RELATED CHARACTERS
Akune Kuroi (Couple-like relationship, she didn't even realize it.)
AGE
20 (This year (2011)
GENRE
Any
HOMEPAGE
BLOG
WEIGHT
106 lbs (48 kg) (Don't ever mention this to her!)
CHARACTER ITEM
A Digital Camera (also the thing she is most proud of.)
CREATOR
りかが
HEIGHT
5'3" feet (160 cm) (Kind of short, but don't mention this to her either.)
VOICE SOURCE
りかが ("Rikaga". but for some reasons, author changes her name to be written in hiragana.)
PICTURE LINK LIST
CONCEPT ART , PIAPRO, PIXIV, DEVIANT ART, GOOGLE IMAGE, PHOTOBUCKET
BIRTHDAY
February 19, 1991
LIKES
Photography (Maybe she likes more, but for now, that's it.)
MEDIA LIST
NICO NICO DOUGA, YOUTUBE
RELEASE DATE
August 1, 2010
DISLIKES
Kiss-ups (The type of person that tries to please certain "someone" with various ways.)
SIGNATURE SONG
Cantarella (With Amezawa Yuki)
PERSONALITY: MILLYA (or Miri, to author's preference) is a carefree UTAU, living in a residence with her fellow RikaLoids in the middle of nowhere. Nothing much can be added to her personality, but she doesn't seem to take any interests in other hobbies than photography. She tried cooking, but it fails. She tried drawing, but it fails. So why not photography? And she happens to be pretty good at it. Akune Kuroi had a crush on her, but she didn't even realize and only thinks of their relationship as friends. Maybe she had feelings towards him herself, but who knows? Her dislike is only one thing, KISS-UPS. she just feels so SO pissed off if anyone did this on her sight. And ironically, all RikaLoids had this signature dislike. Kiss-ups. But this doesn't mean they can get along so well with each other. Not really. Maybe. Her hair is also rumored to be a camouflage only, covering her real hair color (?), which is red. She might show it on some songs!
Supplemental Information
Hair color: Gray or White (Her real hair is red?)
Headgear: None Eye color: Red or Pink
Earphones: White headset; glows out red lights
Dress: Currently in re-designing, but see concept art for further informations.
Nationality/Race: Not described so far.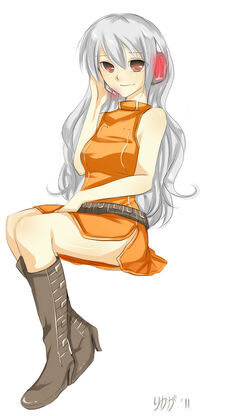 Voice Configuration
Encoded in hiragana, with romaji aliases. *Please note that UTAU users that doesn't have Japanese locale installed in their computer might got her zip extracted with gibberish (In this case, this "gibberish" is unicode) language instead of showing hiragana vowels.*
Author also adds various icons and sample words to her voicebank. (This "word" means sentences she speaks, which is seiyuu-ized by Rikaga herself)
With tuned oto.ini, you can now download her latest ACT (ACT.5) over HERE.

Her append Solid is downloadable HERE
Her append Sweet is downloadable HERE

Notable Works
So far, MILLYA had sing a short list of well-known VOCALOID songs with her latest ACT and published through YT/Nico Nico Douga

Please note that these songs aren't written in the right order, and is not updated frequently!*
 

・Just Be Friends (Link removed, sorry!)
・Romeo and Cinderella
・Meltdown
・Like, Dislike(スキキライ)
・Division→Destruction of Hatsune Miku
・MELT
・Matryoshka (Duet with Utaune Nami , a well-known Malaysian UTAUloid)
・Kocchi Muite Baby!
・Black ★ Rock Shooter
Song covers listed here are what she have sung so far, but there may have be more since this isn't an updated list.*

This article is written and certified true and correct by the author of the character, りかが or Rikaga. The details seen here may be subject to change without prior notice.