MEGAne


(Japanese: メガ音 - メガね MEGAne)

NAME INTERPRETATION:
メガ音 (MEGA); word meaning huge/great;(ne); japanese for sound
His name can also be read as めがね (眼鏡), a pun on the fact that he wears glasses.

TYPE: YuKaiLoid 03 (UTAUloid)
MODEL: 03
GENDER
Male
VOICE RANGE
C4-A2
RELATED CHARACTERS


KUBI SHUNE
(Partner)
NE
(Sister)
KUBIKO SHUNE
(Sister-like)

AGE
21
GENRE
Any
HOMEPAGE
YuKaiUTAU Productions
WEIGHT
80Kg
CHARACTER ITEM
Nectarines
CREATOR
nekodoru
DeviantART
YouTube
HEIGHT / MEASUREMENTS
6'1 / 1,85cm
VOICE SOURCE
nekodoru
PICTURE LINK LIST
ConceptArt
BIRTHDAY
August 20th
LIKES
Attention & affection, Pancakes, Milkshakes & Games
MEDIA LIST
YouTube
RELEASE DATE
June 7th 2012
DISLIKES
Being ignored, losing
SIGNATURE SONG
Ur-Style
PERSONALITY:
Charismatic and flamboyant.
MEGA is a social and self-confident young man, wishing never to be told he's got something wrong.
Mostly he stays by the side of KUBI, asking for either fusses or secretly advice,
something he wouldn't admit needing from him especially.
The shell of confidence is however quite easy to break, leaving him awkward and annoyed at many times.

Character Design
Hair color: Short white hair fading to pink
Eye color:Light pink
Shirt: A white armless longshirt with high neck, and pink lines along the edges
Jacket: A grey/black short jacket reaching to his waist
Sleeves: Long and wide, with a transparent pink broad line and speakers near the hands
Pants: Black pants
Feet: Black boots with same upper ends as on the jacket's arms, and pink soles
Other: Sometimes wears a piano key-patterned muffler with no ends, limegreen glasses and black/green headphones.
Also has two beautymarks below his right eye.
Nationality: Unknown
Voice Configuration
Recommended flags: Y10C20F1L3g+23
The g-configuration can be changed between 20 - 25 depending on song. Try to make him not "whistle".
The voicebank works for romaji and hiragana .usts.
He lacks some syllables but works with most Japanese songs.
CV
Please read the configurations in the included readme.
Updated Download: http://www.mediafire.com/download/1abfgdiyarz3xa5
Comes as a double pack, together with KUBI SHUNE's VB.
VCV
Please read the readme included with the voicebank for updated flags.
http://www.mediafire.com/download/482lxabtzimjvvp
Comes as a double pack, together with KUBI's VB.
Extra Character Relation
Facts
Has a vast selection of glasses and goggles, among others.
Is easily touched by sweet and cute things.
Though he seems to understand KUBI, he doesn't quite all the time.
KUBI is his canon love interest.
Can barely see half a meter without his precious glasses on.
Loves to cook food but can't bake even the easiest of cakes.
Is quite amazed by starry skies.
Despite not being completely stupid, he's not always very smart either.
Usage Clause
Do not change his design unless just clothing for a specific song.
Please DO NOT pitch his voice into noncanon characters.
Don't use him for Roleplay.

Concept ART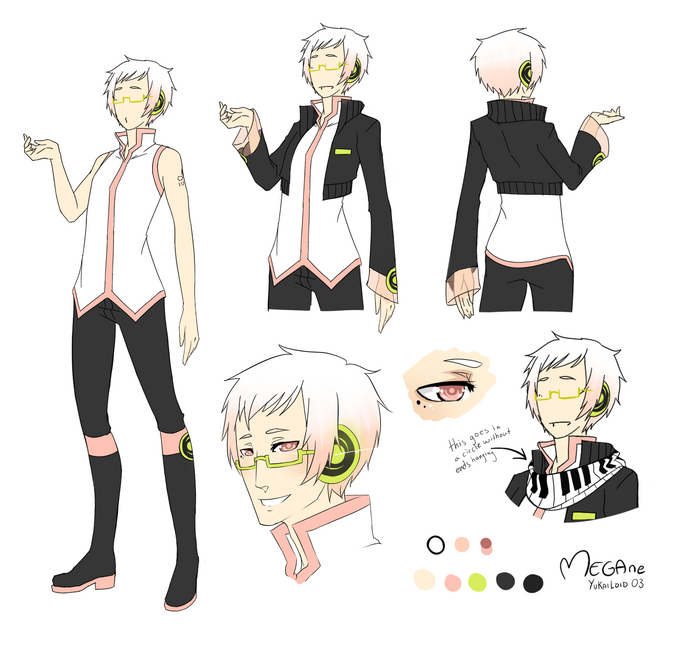 This article has been written by the creator of MEGAne.
Please do not change any info.
Community content is available under
CC-BY-SA
unless otherwise noted.