| | | |
| --- | --- | --- |
| | | MAN-A1 |

NAME INTERPRETATION:
Male Vocal For UTAU English

TYPE: Male EN Voicebank
MODEL: A10-0

GENDER
Male
VOICE RANGE
A2-F4
RELATED CHARACTERS
Eleanor Forte(Synth V Platform)
AGE
18
GENRE
Ideal Genre That is Felt to the User's Need
HOMEPAGE
https://dawilliams308.wixsite.com/voicebanks
WEIGHT
273 Lbs
CHARACTER ITEM
Microphone
CREATOR
Azure(Armani-Chan)

Row 4 Project(Oto'ers)

HEIGHT
56
VOICE SOURCE
Armani
PICTURE LINK LIST
None
BIRTHDAY
04-20-2019
LIKES
Cereal, CupcaKke, And Jason Derulo
MEDIA LIST
https://dawilliams308.wixsite.com/voicebanks : Note that the demo sample sounds choppy because of late consonants. Man-F1 ENG will Receive an Updated Sample whenever he receives Updates to his voicebank. Current Reclist Used for The VP - Arpasing 0.2.0 6 syllable reclist. Also MAN-F1 ENG is currently Being Oto'ed by The Row 4 Project. MAN-F1 Will Then be released on the UTAU, UTSU, And UTAU-Synth Platforms
RELEASE DATE
04-20-2019
DISLIKES
Hate, Homophobia, DBZ
SIGNATURE SONG
Shelter(Porter Robinson/Madeon)
PERSONALITY: Exploration/Shy/Flamboyant/Cute/Happy
After Testing. Vb is Now OTO'ed: download Here [1]
A Later VCCV Voicebank Is Being Planned for. Arpasing is 1st though due to faster oto.
MAN-A1 uses the Arpasing Method for all of his Voicebanks. Meaning it uses Arpabet Phonemes For the Lyrics. Arpasing Assistant is Recommended to change a ust into Compatibility for MAN-A1(Please Note, Editing is needed after using Arpasing Assistant on a UST. Editing is Required For MAN-A1 to Function Properly On A UST. Please Make Adjustments to the UST Before using this Product, or MAN-A1 Will not Work Properly, And may sound choppy if not used correctly. Please convert Any english UST's that are CV, CVVC, VCV, VCCV into Arpasing if you want them to work with this Product
MAN-A1 Is Compatible with UTAU, UTSU, and UTAU-Synth. his voice was recorded in stereo format. Uses Vocal Fry as Well. Conversion to Arpabet is needed to use MAN-A1.
Ex: stay here
Arpabet ver: s t -ay hh er
Because this product uses Arpabet phonemes, MAN-A1 is not suggested for Beginners.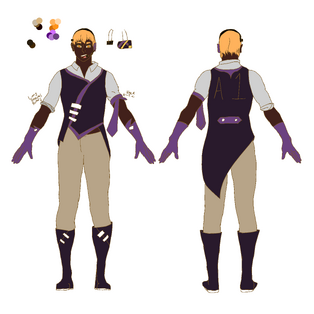 Tips and Moresampler works Best with MAN-A1. All of moresampler's Flags have been tested on his voicebank and is 100% compatable with the voicebank
Suggested flags are Mt-100, Mt-021, P90Mt, E, And XY25(Even on wavtoolEX and Resampler)
Art made by Row 4 Project for MAN-A1
Community content is available under
CC-BY-SA
unless otherwise noted.