MAGGIE


(Japanese: マギー)

GENDER
Female
VOICE RANGE
A#2~G4
RELATIONS
BELOW ON THIS PAGE
AGE
18
GENRE
Any
HOMEPAGE
Official website
WEIGHT
N/A
CHARACTER ITEM
Garfield plush
CREATOR
VaporwaveToons2002
HEIGHT
4'11"
VOICE SOURCE
VaporwaveToons2002
PICTURE LINK LIST
N/A
BIRTHDAY
July 11, 2002
LIKES
80s and 90s music, Takis, Garfield, video games, nighttime, Monster Energy
MEDIA LIST
YOUTUBE
RELEASE DATE
July 11, 2018
DISLIKES
Talkative people, stupid people, girly things, dresses, makeup, black lemonade, happiness, seafood
SIGNATURE SONG
None

PERSONALITY: Sarcastic, cynical, tomboyish, level-headed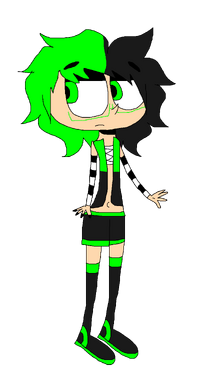 Supplemental Information
Hair color: Green and black
Eye color: Green
Outfit: Look at the concept art
Other: Green glasses
Nationality/Race: Japanese/American
Relations
Gallery
Trivia
MAGGIE's real name is Maggie Hisui.
She's allergic to seafood.
She is pansexual.
Her original name was "Michi Doku".

She was a former member of TRIOloids.

She still has her Garfield plush since she was a toddler.
She owns a Garfield telephone.
MAGGIE's favorite video game series is Mortal Kombat.
MAGGIE is an night owl.
MAGGIE's design is inspired by Billie Eilish and v flower.
Despite liking the 80s and 90s music, MAGGIE likes to watch some 80s and 90s shows and movies.
MAGGIE is a kuudere.
Her nickname is "Magnet".
MAGGIE doesn't wear a dress, but she can only wear a suit or a tuxedo.
MAGGIE never gets angry at all, but she'll get really irritated if someone takes away her Garfield plush.
MAGGIE prefers to play with masculine toys over girly toys.
MAGGIE is a professional skateboarder.
She and DEENA work at Hot Topic.
She doesn't use social media that much.
She rarely smiles sometimes.
She infrequently raises her voice.
She secretly likes taking bubble baths while eating boxes of chocolate and listening to some R&B music.
She'll only chuckle whenever DEENA gets in trouble.
She can make crafts out of some Monster Energy cans (planes, guns, etc).
She has to cook dinner for DEENA since she doesn't know how to cook.
Voice Configuration
MAGGIE will only have a CV voicebanks. No VCV, CVVC, or VCCV voicebanks have been planned yet.
Usage Clause
You must credit "VaporwaveToons2002" or "VT2002" for the voicebank that you use.
Making R-18 songs are allowed.
Do not claim this voicebank as yours.
You do not have permission to RP (roleplay) MAGGIE.
Do not edit this voicebank, but you can edit the oto.ini.
Do not pitch this voicebank, or make MAGGIE as a Pitchloid.
Do not use MAGGIE as a hate speech.
Making original songs are allowed.