| | |
| --- | --- |
| | (Japanese: ららばい) |

NAME INTERPRETATION:

Lullaby - ❖A soothing melody meant to make one fall asleep.❖

TYPE: ---
GENDER
Male
VOICE RANGE
A3-G6
RELATED CHARACTERS

(Same Creator)

AGE
16
GENRE
Pop-Rock, Dance-Rock, Bubblegum Pop
HOMEPAGE
https://www.youtube.com/channel/UClGXifmh2lCRBMcILNccLSQ/featured
WEIGHT
116 lbs.
CHARACTER ITEM
Clock/Cane/Thread
CREATOR
Anthony Cunha

/Silverstein2000

/DollMaker

HEIGHT
5'3
VOICE SOURCE
Anthony Cunha

/Silverstein2000

/DollMaker

PICTURE LINK LIST
Silverstein2000
BIRTHDAY
January 16, 1999
LIKES
---
MEDIA LIST
Youtube
RELEASE DATE
Created: January 2015

Released: ---

DISLIKES
---
SIGNATURE SONG
Happy Halloween
PERSONALITY: Most of his songs include aspects of horror/sexuality. However, he does not show much of an interest at all in any sort of sexual activity

and does not desire a lover of any sort.
Supplemental Information
❖Hair color: Blonde(often is shown dyed)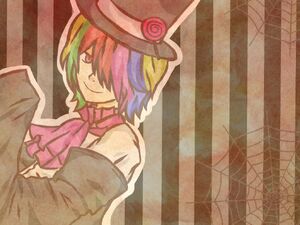 ❖Headgear: Black top hat with decorative accessories
❖Eye color: Red
❖Skin color: Normal-Pale
❖Dress: Anything including either male Lolita or bubblegum gothic fashion.
Voice Configuration
Lullaby includes one uniquely designed and recorded English Voice Library. It is unable to be obtained due to difficult, confusing, and timely usage, and computer-related issues.
Lullaby also includes one VCV Japanese Voice Library which has currently one showcase.
Future Voice Libraries:
❖ Scream Append VCV
❖ ILL Append VCV
❖ Tri-Pitch VCV
Voice Description:
Lullaby has a strong, raspy voice that has shown to be gentle on low notes but fairly powerful on high notes. However, the rasp in his voice tends to show most in these high notes which can restrict the genre of songs he may sing due to an unfitting voice. Whether it is an issue or not depends on the perspective of the user.
As far as downloads go, no voice libraries are available for download yet due to edits and OTO.INI completion. Once completion has been confirmed, a download link will be included to his VCV voice library.
Notable Covers
★Demos★
❖Puppet - Genre: Ballad
❖The Full Course For Candy Addicts - Genre: Horror Punk
❖How To Make A She-Trawberry - Genre: Alternative Metal
❖Coffin Of Sweet Death - Genre: Alternative Rock
❖PatchWork Toxin - Genre: Alternative Pop, Pop-Rock
❖The Seventh Me(Collaboration) - Genre: Swing Pop, Ballad
❖Joker - Genre: Pop-Rock, Power Pop 
❖Paper Moon - Genre: Pop-Punk, Emo-Pop     
♥︎Releases♥︎  
❖Affection-Expanding Chocolate-Holic - Genre: Bubblegum Rock, Pop-Rock   
❖Nape Of The Neck - Genre: Pop-Rock, Horror Pop
❖Happy Halloween - Genre: Bubblegum Rock, Pop-Rock, Dance-Rock    
Community content is available under
CC-BY-SA
unless otherwise noted.