UTAU
Kyoryu
 
Kyoryu
Japanese:
恐竜

NAME INTERPRETATION: 恐竜; Japanese for Dinosaur

TYPE: ANIMAloid
MODEL: None
GENDER
Male
VOICE RANGE

C3-C5

(It is recommended to mess around with g-flag)

RELATED CHARACTERS
Mar (Friend)

ReMXaN (Friend)

Gear (Friend)

Yuuki Himura (Friend)

AGE
Unkown (Feel free to give him your own age)
GENRE
Anything the user feels he would sound good at singing
HOMEPAGE
[Den]
WEIGHT
Hes a 6ft tall Dinosaur, how much you think he's gonna weigh?
CHARACTER ITEM
The yellow jacket, that he wears all the time.
CREATOR
Paperkirby
HEIGHT
6'0" (182.88 cm)
VOICE SOURCE
Paperkirby
PICTURE LINK LIST
DEVIANT ART, GOOGLE IMAGE
BIRTHDAY
November 2nd
LIKES
Gachapoid, hugs,and pineapples
MEDIA LIST
NICO NICO DOUGA
YOUTUBE
RELEASE DATE
November 2nd, 2012

DISLIKES
Fairies and Lasers.
SIGNATURE SONG

PONPONPON

PERSONALITY: He is kind and shy Dinosaur, unfamiliar with Modern day society. Though once out of his shell he is very optimistic. He is Omnivorous, so he is capable of eating Vegetation and Meat. His favorite fruits are pineapples.
UTAU Technical Information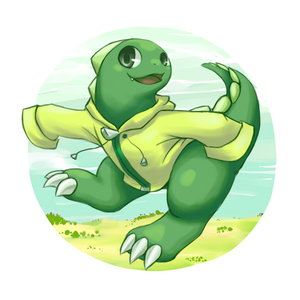 Voice Bank
Act 1
To download Kyoryu's Act 1.00 CV Voice Bank, Download it Here
Important Notice
This article is written and certified true and correct by the author and friends of the character. The details seen here may be subject to change without prior notice. No one is allowed to Alter this pages information unless given permission from its original creator, when such permission is given, it will be posted in the characters Talk Page.