Kyoren

(Japanese: 京レン - Kyouren/Kiyoren)

FULL NAME: Kyoren Hashimoto (橋本京レン-Hashimoto Kyoren)

NAME INTERPRETATION:

京 (Kyo; Kyou) Meaning "Capital".

レン (Ren) Usually written in Katakana, derived from his voice actor's name (Ehren). Can also mean "Romance" (恋).

TYPE: Meganeloid

MODEL: 01.19 - January 19 is a very important date for Kyoren. And only he knows why.

GENDER

Male

VOICE RANGE

A2-F4

RELATED CHARACTERS

Seto (Kagerou Project)

AGE

18

GENRE

Electro, Pop, Glitch Hop, Rock

HOMEPAGE

WEIGHT

76kg

CHARACTER ITEM

Megane (Usually rectangle, upper framed)

CREATOR

HEIGHT

5'9

VOICE SOURCE

Ehren Campos

PICTURE LINK LIST

TBA

BIRTHDAY

July 2, 1998

LIKES

Megane, Pic-A, Cake, Video Games, Anything Techie

MEDIA LIST

RELEASE DATE

June 05, 2014 (Act 1). August 17, 2014 (Act 2).

DISLIKES

Rejection, Humiliation, Embarassment, and bugs

SIGNATURE SONG

Our let it be

PERSONALITY: Started out as a school singer, he then went on to video gaming. He became a commentator and eventually got tired and decided to be an UTAU. There on out, he is still waiting for his girlfriend (Konaruhi) to get her UTAU done. He usually sing songs of love and rejection. And he really likes to edit graphic designs, the amount he spents on the computer is too high, that he eventually had to wear glasses. Despite being a male, he has a bit of a high toned voice. He blames his Voice Provider for that. Quote from Voice Provider: "But they said I should record in a SINGING voice D:"
Supplemental Information  
Hair Style: Black with some of the hair styled to look like cat ears.
Headgear: Megane, and sometimes a hoodie from his jacket. (Which he rarely wears)
Eye color: Brown
Headphones: Skullcandy. He's choosy.
Appearance: Green Jacket, Brown hair with nekomimi hairstyle. Copying that of Seto's appearance from Kagerou Project (Act 1).
Black hair with traces of brown on the nekomimi style, megane, white polo with gray armwear (Like miku's. Only it starts from his biceps upto his wrist), also a white checkered shoulder bag, black pants, and dark black shoes. Now more original and based on his voice actor's appearance (Act 2).
Nationality/Race: Filipino-Japanese
Voicebank  
Act 1 and Act 2 Voicebank Download: https://www.mediafire.com/?r64lgprpewrx2bi
Act 1 Information: 
Files : 119
Size :  16051316bytes
Freq avg : 179.8 Hz (F#3)
Logical range : A2-F4
Voice Provider Comment: Not too good... the only song that turned out well is Our let it be. Maybe because i rushed the oto'ing and recording /n\
Act 2 Information: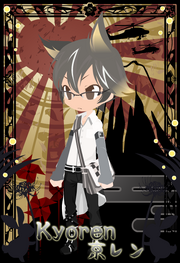 Files : 112
Size :  21848896bytes
Freq avg : 187.6 Hz (F#3)
Logical range : A2-F4
Voice Provider Comment: Perfect~ I love how Act 2 turned out.. it needs a little polishing. But it's better than Act 1 and it can do more songs fluently.
ATTENTION: VOICEBANK IS NOT TO BE MODIFIED WITHOUT PERMISSION FROM THE VOICE PROVIDER, YOU CAN USE IT FOR MULTIMEDIA PURPOSES.
Notable Songs
Community content is available under
CC-BY-SA
unless otherwise noted.