KURISU KOORINE


(Japanese: 氷音クリス - こおりねくりす - Koorine Kurisu)

NAME INTERPRETATION:
氷音 (Koorine; Ice sound)
クリス (Kurisu; Chris written in Katakana) - A variation of the author's real name.

TYPE: 120loid (120Network's UTAU Series)
MODEL: 120-1 - imprinted on armband.
ALIAS: Christopher Izzard

GENDER
Male
VOICE RANGE

C2-C4 Tenor

RELATED CHARACTERS

Neko Kanochi (vocal coach/friend)
120 Inc. "Co-workers"
Sabii Koorine
Fureddo Koorine


AGE
21 (physicaly and mentaly)

GENRE
Ballads, Techo,
HOMEPAGE
youtube
blog
WEIGHT
190 lbs (86.18 kg)
CHARACTER ITEM
ice cubes
CREATOR
zinfandel
HEIGHT
6' 2" (188cm)
VOICE SOURCE
PICTURE LINK LIST
CONCEPT ART
BIRTHDAY
June 25, 2010
LIKES
Cold rooms, Ice, Alcohols
MEDIA LIST
Youtube Broadcasts
RELEASE DATE
June 25, 2010
DISLIKES
warm rooms, long business meetings
SIGNATURE SONG

PERSONALITY: Bored, and Apathetic. Usually loosens up when drinking or singing and/or both. He is CEO of 120 Inc. (fictional entertainment company). When drunk he is has a more cheery attitude and is overly promiscuous. He on a few accounts have paid people off to not speak about afew affairs. Very protective towards other 120loid members that are C-level in 120network. He is also oftenly found, laying around drinking alochol when he is either tried or in need of enthusiasm.
Supplemental Information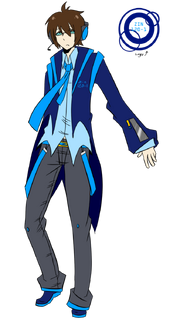 Hair color: Brown
Headgear: Glasses
Eye color: Brownish-Hazel
Earphones: blue and gray circular headphones that wrap behind his head.
Clothing: Light blue under shirt, Blue tie and supenders, with royal blue over coat with a I/O Panel on it, gray pants, and royal blue shoes.
Nationality/Race: American/Cybernetic Humanoid
Favorite Phrase: English: "Wait, what?" Japanese " 待て、何? Matte nani?"
Sexuality: Omnisexual, (in M/M pairings he is versitile)
Blood Type: O+
Zodiac sign [Western]: Cancer
Other: Has Cybernetic left arm, voicebox and parts of brain due to a fatal accident. I/O shows vitals, voice waveform, and has other mobile device applications that he can use (Contacts, Email, Calander, Internet, Ect.).
Voice Configuration
TECHNICAL INFORMATION

Kurisu Koorine ACT 3.0
ARCHIVE FILENAME
Kurisu Koorine ACT3.zip
ARCHIVE FILESIZE
15.08 MB
DATE RELEASED
6/25/10
NO. OF VOICE PHONEMES
200(no octave shifts)
TOTAL UNCOMPRESSED SIZE
19,199,044 (18.30mb)
PHONEME ENCODING
Romaji (Hiragana aliases)
AVERAGE FREQUENCY
A#2
FRQ FILE PRESENCE
Yes
LANGUAGES SUPPORTED
Japanese
UNOFFICIAL SUPPORTED LANGUAGES
Engrish
OTO.INI PRESENCE
Yes
TUNED OTO.INI
Yes
LANGUAGE PARSED VIA OTO.INI
Japanese
VOICEBANK VOICER
zinfandel
TECHNICAL DIRECTOR
zinfandel
RECORDING SOFTWARE USED
Oremo
VOICEBANK EXTENSIONS PRESENT
None
Download Status/Link
download
Genderbend flags
g-25
Genderbend range
c4-c5
Genderbend Label

Kurisu♀

Shota/Loli Flags
g-15bre55
Shota/loli Range
C3-C4

Shota/Loli Label

Kurisu shota
Technical Notes
Kurisu Koorine ACT3 works best with World4UTAU resampler.
Usage Clause
Do not utilize this voicebank and/or the character in the way that deviates from the usage given in the Readme.txt attached to this voicebank. No restriction is imposed on utilizing this voicebank for the voice synthesis programs other than UTAU as long as the notice referred to in the previous phrase is observed.
The author does not hold any responsibility to incidents brought by the works using this voicebank and/or the character.
Works using this voicebank and/or character which include vicious messages toward listeners and/or certain persons/parties are forbidden.
Juridical person may utilize this voicebank and/or character for commercial purpose under the condition that the author is notified in advance.
Redistribution of this voicebank is forbidden.
5a. Unless the creator has not been able to be contacted for more then 6 months and current form of distribution is disrupted for any reason.
5b. private file transfer i.e. person to person via a IM or Email is allowed, as long as creator (i.e. zinfandel/zinfandel120 or 120network) is notified and/or is still credited.

Any of these clauses can be overruled with special written and publicly announced permission from zinfandel-v (zin-v) / 120Network.
Contact information
to contact zinfandel / 120Network.
Twitter: http://twitter.com/zinbear
This article is written and certified true and correct by the author of the character. The details seen here may be subject to change without prior notice.