thumb|right|349px|One of her best! I like to think. :)
Kurai Miku= 倉井ミク=Dark Future
Age: 15
Birrthday(Release Date): July 6, 2010
Model: 096 UTAULOID
Gender: Female
Optimum Range:G3-C#5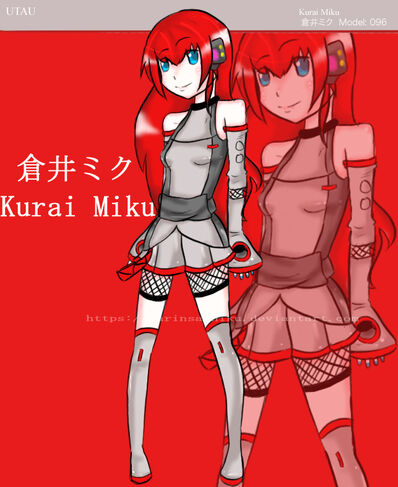 Voice Type: High-pitched and sweet (styled slightly after Hatsune Miku)
Weight: 40kg
Height:157.5 cm
Voice & Picture Sources: TwitterYouTube deviantArt
Items: Cats & Fruit
Alias: Yes
Fully oto'd: Yes
Genderbend: No
Likes: Fishnets(clothing), Food, Cats, FRUIT, singing, drawing, desserts
Dislikes: Snotty people, unfriendly people, milk,meat
Personality: Though she is a robot she has very realistic human emotions. She can fall in love or get heartbroken. She hates it when people say she sucks and strives to become better. She is a very clumsy loid that is shy at first and can be very loud. She enjoys cooking with friends and her creator (Karin Sachiku).
Voicebank: Kurai Miku Act1
KuraiMiku096 03:31, April 23, 2011 (UTC)
Karin Sachiku(InuUchiha2009)
All information is direct from the creator (KarinSachiku)
Community content is available under
CC-BY-SA
unless otherwise noted.