KUMO NOIZU


(Japanese: 雲ノイズ - くうモーノイズ - Kumo Noizu)

NAME INTERPRETATION:
雲 (Kumo) - Means "Cloud" ノイズ (Noizu) - Japanese way of pronouncing "Noise". Implying the soft quality Noizu has in her voice. Voice is a slight combination of soft and power.

TYPE: UTAUloid
MODEL: R-21 (Short for the creator's alias: Ruko and 21)
GENDER
Female
VOICE RANGE

A#3~F#5

80-150 BPM

RELATED CHARACTERS

Chii Feirune ( Friend )

Harusaki Mokuren ( Friend )

Aido Ishiame ( friend )

AGE
17
GENRE
Any
HOMEPAGE

None

WEIGHT
107 lbs
CHARACTER ITEM
NONE
CREATOR
森カ(With help from CircusP)
HEIGHT / MEASUREMENTS

160cm

VOICE SOURCE
森カ / MORIKA
PICTURE LINK LIST

CONCEPT ARTCHARACTER SHEET, PIXIV, DEVIANT ART, GOOGLE IMAGE

BIRTHDAY
December 21
LIKES
Tea, Flowers, and friends
MEDIA LIST
YOUTUBE
RELEASE DATE
December 20 2011
DISLIKES
Unhealthy food, pesstimistic people, insects
SIGNATURE SONG
None
PERSONALITY: Calming, rather meek but very naive. This is due to the fact that she is blind. She is considerate and very patient. She can keep all your secrets to and put your trust in. Except she has the habit of running her mouth when she gets excited.
Supplemental Information
Hair color: White with a red gradient.
Headgear: NONE.

Eye color: Red.

Outfit: Noizu wears a white, sleeveless turtleneck with a short sleeved black shirt to go over. She wears black shorts with a white checkered pattern on the left. Her oversized armwarmers are black with a red sleeve. Noizu wears gray thigh highs with tall, white boots with red stripes. A simple red box rests on the left side of her bangs.
Nationality/Race: Japanese

Voice Configuration
Noizu is specifically set to sing in hiragana and romaji. Otos in her files are buggy but are able to function well.
Noizu's samples are quite buggy and they are recorded in a low quality source. However, that will be changed in future voicebanks.
Noizu will have a whisper and strong (Burst) append in the future. Her Standalone voicebank is to be announced in early Summer of 2013. Her V.01 voicebank can be downloaded here.
Voice Accent
Noizu's creator has a fairly strong American accent. So many sounds like kyu, ku, tu, chu, che, te, ta, su, and sa are pronounced with a strong emphasis. This will most likely be fixed in Noizu's next voicebanks.
Notable Works
Illustrations
Noizu's finalized outfit was confirmed by her creator on February 4th 2013.
Certified true and correct from Noizu's creator, Morika. The details seen here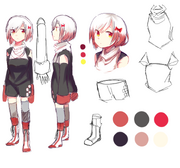 may be subject to change without prior notice.
Community content is available under
CC-BY-SA
unless otherwise noted.