KowairoTsukoto


(Japanese: 声色ツコト - Kowairo Tsukoto)

NAME INTERPRETATION:
His name was formed on behalf of Tsukai, replacing the "ai" with "oto" (UTAU reference).
TYPE: UTAU
MODEL: kiwiloid
GENDER
Male
VOICE RANGE
D#3~A5
RELATED CHARACTERS

(younger sister, love interest)

Kowairo Kaeru (friend)

Himeteru (friend)

AGE
19
GENRE
Rock music
HOMEPAGE
N/A
WEIGHT
145 lbs (66 kg)
CHARACTER ITEM
Kiwi bird
CREATOR
himewaki
HEIGHT
5'11" feet (179 cm)
VOICE SOURCE

himewaki

PICTURE LINK LIST
CONCEPT ART'REFERENCE SHEET
BIRTHDAY
April 14, 2018
LIKES
His sister, rock music, when his sister peels kiwi berry for him, a lime drink, CONKE
MEDIA LIST
RELEASE DATE
April 14, 2018
DISLIKES
Those who love his sister, BEPIS
SIGNATURE SONG
Tokyo Ghetto (Eve cover)
PERSONALITY: Tsukoto is caring (to his sister), but also quick-tempered, sometimes aggressive. Usually calm. An uninteresting fact: when Tsukoto is angry or sexually aroused, the green trands on his head rise, as if from the wind. Smokes cigarettes.  
Supplemental Information
Hair color: Bluyish gray + two strands of green from the parting
Headgear: None
Eye color: Olive
Earphones: None
Dress: See Concept Art
Nationality/Race: Presumably Japanese/Kazakh
History: At the first stages of Tsukoto's formation, he was just a gender-bender of Tsukai, but his creator thought that would be uninteresting.
Sometimes he tries to play the guitar, but fails and cries lying on the floor. Like when he tries to confess his feelings to Tsukai, but she answers "I love you too! Because you are my brother! <3"
Flags: F1Y0C99B0 (g+6 is optional)
Resampler: moresampler 0.8.3 (as WAV too)
Voice Configuration
Tsukoto is designed for japanese language only. His voicebank is kana encoded, monopitch CVVC. You can download it here.
Kowairo Tsukoto -Tomuri- CVVC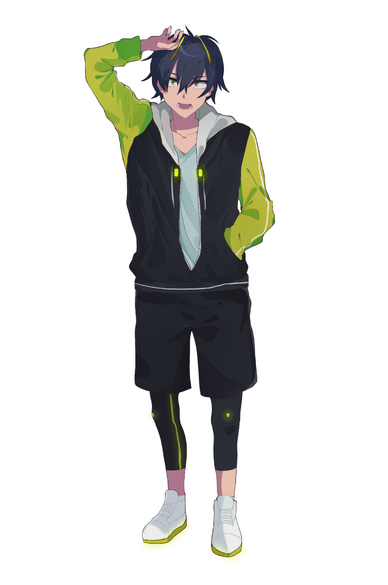 December the 15th - Tsukoto's CVVC tripitch voicebank was released! (B3, D4 and G#3)
Voicebank also includes: new icon/design (with concept art)
"Tomuri" is a male kiwi fruit (Actinidia is Tsukai and Tomuri is Tsukoto).
resampler (recommended): EFB-GT
Download: here
Signature song for this voicebank: