KOTOKI AI

(Japanese: 事気愛 / こときあい / Kotoki Ai)

NAME INTERPRETATION:

愛 (Ai) lit. "love", japanese surname/given name (fem.), in this case used as a given name.

事気 (Kotoki) lit. "thing (koto)", common part in japanese surnames/given names, in this case used as a surname with "ki" added to the end to make the name better sounding.

ALIAS: アッちゃん (Acchan) A nickname shortened from her name "Ai", and added the -chan suffix in more creative way.

TYPE: SBLD / FINloid

MODEL: β (beta)

GENDER
Female
VOICE RANGE

TBA

RELATED CHARACTERS

Yume Chi (romantic interest, roommate, fellow SBLD

Yume Kuro (roommate, fellow SBLD)

PERSONATILY TYPE
AFRAID OF

Losing her loved ones, cappuccino running out (humouros fear)

SEXUALITY

Straight (Heterosexual)

AGE
17
GENRE
Any
WEBSITE
TBA
WEIGHT

46kg /101.4lbs

CHARACTER ITEM
Crowbar
CREATOR

Weaselbee

HEIGHT

156cm /5.1ft

VOICE SOURCE
Weaselbee
PICTURE LINK LIST
BIRTHDAY
September 26
LIKES
Cappuccino (obsession), rain, sleeping, music
MEDIA LIST
RELEASE DATE
TBA
DISLIKES
Olives (abhors), headache, horses, people who try to get close to the person she loves
SIGNATURE SONG
TBA

PERSONALITY: Ai is a sweet, playful, energetic Japanese-Finnish girl. Despite her partly young age, Ai is also very smart and mentally strong. Therefore, she thinks she's strong enough to survive on his own when she's feeling depressed or otherwise sad or down. This, of course, might cause trouble with Ai and the communication. She is also very sarcastic, violent and clingy, which refers to her yandere nature. She also has almost like an obsession over cappuccino.
Supplemental Information
Hair color:
 Blonde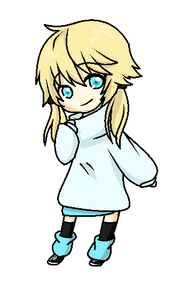 Head gear:
None
Eye colour: 
Blue
Top:
 Light blue over-large sweater
Bottom:
Black over-knee socks, darker blue skirt, darker blue leg warmers
Shoes:
Black-white sneakers
Nationality/Race:
 Finnish-Japanese
Other:
 She often has her red cappuccino mug with her
For more details, please refer to the concept art.
Voice Configuration
Ai's voicebank is still unfinished. It will be one or two pitched VCV, with a quite high child-like voice and somewhat lazy consonants/pronouncing.
She has a normal one/two pitched VCV. Other appends and banks will be added later on. Upcoming/planned voicebanks (appends and acts etc.) can be found below.
Planned/future voicebanks
(note: These banks are only planned to be done. There's no 100% guarantee that they will get made.)
事気愛

finnish CV? (finnish language, one pitch)

事気愛

MAUL CV (power append, one pitch)

事気愛

NIGHT VCV (power append, one pitch)
Trivia
Ai has an IQ of 113.
She gets jealous very easily.
Usage Clause
If you use Ai's voicebank, please credit Weaselbee.
Do not edit/pitch etc the voicebank.
Do not redistribute or upload as your own.
Do not claim as yours.
Recommended to link your cover or covers (sbld;used) to Weaselbee.
Community content is available under
CC-BY-SA
unless otherwise noted.