KIMIKO ITOH


(Japanese: キミコ・イトウ - kimiko Itō)

ALIAS: Kaze-sama
NAME INTERPRETATION:
キミコ (Kimiko; Noble Child/Girl)
TYPE: Pockyloid - (PockySensei's UTAUs)
MODEL: 04 - (Pockys 4th UTAU)
GENDER
Female
VOICE RANGE
C3 - C5
RELATED CHARACTERS

Kaze-sama (Brother)
Kazumi-sama (Love-intrests)
Pocky-chan (Best Friend)
Buttnose (Idol)
L3n  (Friend)
Toby Osbourne (Love Intrest)

AGE
16
GENRE
Anything
HOMEPAGE
NONE
WEIGHT
137 lbs (62 kg)
CHARACTER ITEM
Bear Head
CREATOR
Pocky-chan
HEIGHT
5'10" (178 cm)
VOICE SOURCE
Pocky-chan
PICTURE LINK LIST
CONCEPT ART, イト PIAPRO, イト&s_mode=s_tag PIXIV, +itoh DEVIANT ART, +itoh&as_epq=キミコ イト GOOGLE IMAGE, %20itoh PHOTOBUCKET
BIRTHDAY
May 3rd, 1994
LIKES
Pocky, Toby Osbourne, Singing, Teddy Bears, Pocky-chan
MEDIA LIST
イト NICO NICO DOUGA, +itoh+%22キミコ イト%22 YOUTUBE
RELEASE DATE
January 10, 2010
DISLIKES
Headphones, Mirrors (Cant wear headphones, She dosnt like her face)
SIGNATURE SONG

PERSONALITY: Kimiko is a shy girl, She is cursed with a demon. A demon that cannot sing well. She can't control when it appears, To be more specific, She can't control when it will appear. Either then that Kimiko is a very nice kind and loving girl. She is easy to get along with. She can get rough and sometimes scary at sometimes.

DEMON: Is a ugly person. She is within Kimiko, She tries so hard to ruin Kimiko. She call's herself Kirako but still, she is still Kimiko. When she appears Kimiko's skin turns grey and becomes very skinny. Her face becomes wrinkled and scarred. Her eyes turn black and she has a long pointed tounge.
Supplemental Information
Hair color: Pink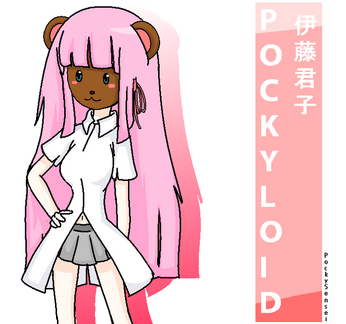 Headgear: Bearhead,Bear Mask, Medical Mask, Sun glasses. (Cover all or half of her face!)
Eye color: Red/Blue
Earphones:!!!
Dress:Shool Girl outfit, Big bear head, Bear Mask, Bear Hoddie, Bear Hat.
Nationality/Race: She is Canadian, no japanese what so ever.
KIMIKO's FACE RULE's!Kimiko Practially has a face now, Her left eye is red and her right eye is blue. If you draw her you must follow the rules, only I can draw her face.
IF YOU SHOW HER EYES HER NOSE AND MOUTH MUST BE COVERED!
IF YOU SHOW HER MOUTH HER NOSE AND EYES MUST BE COVERED!
Voice Information
Kimiko's Append List
Normal VB - ACT1 - Download Here ACT2 - Download Here
Soft Append - ACT1 - Download Here
Solid Append - ACT1 - Download Here
Demon Append - ACT1 - Download Here
Kimiko's ACT2 is up for download!!!!
In ACT2 she dosnt sound muffled or anything! She sounds pretty awesome!
Act2 is mask off so her bear head or mask is off n_n
For her genderbend Hibiko Itoh you want to put her voicebank g's at G+15 C;
Popular Appearances
YouTube
Notable Works
Community content is available under
CC-BY-SA
unless otherwise noted.