KIKU MANAMI


(Japanese: 菊愛美)

NAME INTERPRETATION:
菊( Kiku; Chrysanthemum)

愛美(Manami; Love beauty)

TYPE: ROBOLOiD - (Series of MMD Models)
MODEL: ROBO1
GENDER
Female
VOICE RANGE
C4-C6
RELATED CHARACTERS

Kasane Teto (Role Model)

Nowaki Kinkoune (Friend)

Sumiko Mori (Friend)

AGE

18

GENRE
Pop
HOMEPAGE
Kiku's site
WEIGHT
117 lbs (53 kg)
CHARACTER ITEM
MP3 Player
CREATOR

VocaloidRocks101

Kikami101

MaikoSakine

HEIGHT
4'7" (140 cm)
VOICE SOURCE
VocaloidRocks101
PICTURE LINK LIST
CONCEPT ART, PIAPRO, PIXIV, DEVIANT ART, GOOGLE IMAGE, PHOTOBUCKET
BIRTHDAY
April 18, 1993
LIKES
Fruits, Music, Singing, Ice cream,
MEDIA LIST
NICO NICO DOUGA, YOUTUBE
RELEASE DATE
UNKNOWN
DISLIKES
Meat, Jerks, Some vegetables.
SIGNATURE SONG
Coward Mont Blanc (Cover of Gumi's Song, Coward Mont Blanc)
PERSONALITY: A shy girl to anyone she doesn't know. Once your friends with her she can be very hyper and active and has trouble shutting up sometimes. She can be annoying at points, but she is extremely smart. She loves to sing but fears that many dislike her voice.
Supplemental Information
Hair color: White with streaks of Blue, Yellow, and Purple in her hair. Append Outfit 2 has green in her hair also.
Headgear: In the orignal outfit she wears a miku-like hair tie. In the append design she wears a silver portal-refrenced double hair tie that holds two pony tails in the same place.
Eye color: Dark Blue. Append outfit 2 has green eyes.
Earphones: None
Dress/Outfit: In the original outfit she wears a black append outfit with a black over shirt that states her name. Dark blue and yellow belts. In the append outfit she wears a white append outfit with no overshirt. Light blue and yellow belts. Append Outfit 2 wears more green.
Others: None
Nationality/Race: Japanese

Voice Configuration
Appends still to be finished with Shout! and Whisper (They're WIP). You can hear them without their oto.ini tuning here: http://www.youtube.com/watch?v=4qGiZQto6tw
Soon to be released. No set release date at the moment. Original voicebank only has an act 1. No updates are expected.
7/22/11- A public download has been uploaded. You can find it here.
Append Shout! has been completed - 6/26
Append Whisper has been completed - 6/27
8/15/11 - An ACT 2 for Whisper Append and Regular Voice has started recording.
Rules to Character and Voice
1. No commercial usage
2. No claiming as your own UTAU
3. Don't change her designs - Genderbending is alright though.
4. Credit VRocks101 when used.
5. Don't do anything too inappropriate with her please!
6. NO REDISTRIBUTION!!
If you don't follow her rules and VRocks101 finds out, the voicebank and the MMD model will be taken down. No second chances unless your a close friend that is trusted.
~VocaloidRocks101
MMD Model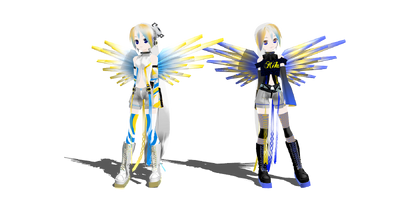 Comparason between the two outfits using MMD models. Append (left) and regular (right). Append model is up for download
here
though the original design is not because of the non-redistributable part used (the over shirt). The models are what came before the voicebank. She was never a drawn character. The models are made by Kikami101. Kiku is part of the series "ROBOLOiD" which was started by Kikami101 or MaikoSakine. You can find downloads to the rest of the series in Deviantart.
Update 6/19 - Append Outfit #2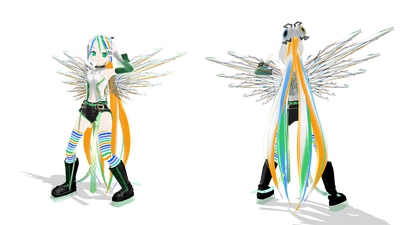 This design was made on 6/19 to give more color to Kiku's append design. She includes four colors and multiple shades of blue. This model is yet to be released in a package of the ROBOLOiDS. There is also a Nendroid model of her made by Kikami101 on Deviantart. You can find and view that model here.
You can download all models in the ROBOLOiD Series (Including Kiku) here.
This article is written and certified true and correct by the author of the character (VOCALOIDROCKS101/KIKAMI101). The details seen here may be subject to change without prior notice.
Community content is available under
CC-BY-SA
unless otherwise noted.