Kiken Mushoku


(Japanese: 危険無色 )

NAME INTERPRETATION:
危険 (Kiken) - danger
無色 (Mushoku) - colorless

TYPE: TRIOloid
MODEL: KM
GENDER
Female
VOICE RANGE
G3~D#5
RELATED CHARACTERS
BELOW ON THIS PAGE
AGE
17
GENRE
Any
HOMEPAGE
Official website
WEIGHT
N/A
CHARACTER ITEM
Cigar
CREATOR
VaporwaveToons2002
HEIGHT
5'0"
VOICE SOURCE
VaporwaveToons2002
PICTURE LINK LIST
N/A
BIRTHDAY
April 6, 2001
LIKES
Rodents, guns, Mountain Dew, Doritos, her round black sunglasses, Call of Duty
MEDIA LIST
YOUTUBE
RELEASE DATE
January 6, 2019
DISLIKES
Urge to urinate, burnt food, crybabies, people stealing her round black sunglasses, Fanta
SIGNATURE SONG
None

PERSONALITY: Hyperactive, immature, mischievous, impatient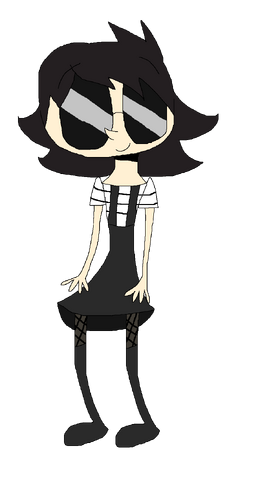 Supplemental Information
Hair color: Black
Eye color: Dark purple
Dress: Look at the concept art
Other: Black round sunglasses and a missing front teeth
Nationality/Race: Japanese/American
Favorite phrase: "What's crackalackin', dude!"
Related Characters
Fellow TRIOloid
Gallery 
Facts/Trivia
Kiken likes to play Call of Duty at nighttime.
She can get really upset if someone eats all of her Doritos.
Kiken never takes off her round sunglasses.
Kiken only drinks Mountain Dew and energy drinks (she don't drink water, juice, milk, coffee...etc).
People thinks that Kiken's voice sounds like a frog (she don't like it when someone makes fun of her voice).
She used cheat codes to play Call of Duty.
Kiken is a night owl.
Kiken often calls Orenji "hot momma".
She has a pet rat named Frederick.
Kiken was expelled from high school for throwing a lamp at another classmate and told them to "Lighten the f*ck up!".
Voice Configuration
Kiken will only have a CV voicebank.
Usage Clause
Please credit VaporwaveToons2002.
Do NOT edit Kiken's voicebank.
Do NOT edit this page.