KERO ATARI


(Japanese: 当たりケロ - Hiragana: あたりけろ - Kana: アタリケロ - Eastern: Atari Kero)

NAME INTERPRETATION:
当たり (Atari; Means "Lucky" in Japanese)
ケロ (Kero; is the Japanese onomatopoeia for the sound a frog makes, like Ribbit)

His name altogether roughly translates to "Lucky Ribbit", referring to Kero's voice.

TYPE: NONE
MODEL: 191294@
GENDER
Male
VOICE RANGE
A2-G#6
RELATED CHARACTERS
AGE
17
GENRE
UNKNOWN
HOMEPAGE
WEIGHT
125 lbs (57 kg)
CHARACTER ITEM
Electronic Cigarette
CREATOR
Adam-P (NaniKerohii)
HEIGHT / MEASUREMENTS
6'2"
VOICE SOURCE
Adam-P (NaniKerohii)
PICTURE LINK LIST
N/A
BIRTHDAY
December 12, 1996
LIKES

Frogs, Girls, Playboy magazine, Jazz, his fangirls

MEDIA LIST
SOUNDCLOUD
RELEASE DATE
November 20, 2013
DISLIKES
Singing when he's tired, being alone
SIGNATURE SONG
E//X (Original)
PERSONALITY: Kero is depicted as extremely annoying, but very sweet. He can easily drive people absolutely up the wall, he talks very fast and very calmly, with a slightly bored tone and a straight face, but just wants attention and love. He hates being alone. He has a pet cat named Yuyu.
Supplemental Information
Hair color: White (Officially), sometimes White/Silver in other depictions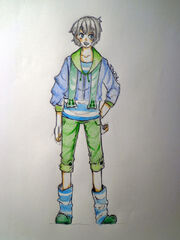 Headgear: None
Eye color: Blue
Earphones: None
~Clothing~: 1st Layer: Striped blue and white tank-top, green shorts, green sneakers. 2nd Layer: Blue zip-up hoodie (green hood and cuffs), blue and white striped leg warmers, green scarf.
Nationality/Race: Italian, Japanese Descent
Favorite phrase: "No shit, Sherlock."
Voice Configuration
Kero is designed for Japanese and English. Kero is one of the first UTAUloids to use KitsuyeoNana & RavenBetrayl's adaption of the String-CV voicebank theory (SCV.) His most recent voicebank is his V1 SCV, released on November 20th of 2013. Kero's Append package is in production. The package includes these appends: Firm (Strong voice), Silk (Soft voice), and Salvo (Shout voice.) Kero has roughly 4 octaves of range in UTAU, each can be used to attain a different kind of voice. A2-C4 sounds very adult, C4-C5 sounds like a young boy, and C5-G#6 sounds very feminine. Suggested Resampler: Freesamp
- - - - JAPANESE+ENGLISH - - - -
FULL SCV V1: https://skydrive.live.com/redir?resid=478088D9517D9B24!123&authkey=!AIbGS4MzaGCQTds
Notable Works
E//X (Original Song, Featuring Yukari Yuzuki)

Masked bitcH (With Yuumei Ekiguchi)
WAVE (WithNeko Kanochi)
Gallery
Community content is available under
CC-BY-SA
unless otherwise noted.