| | | |
| --- | --- | --- |
| | | KEIRI (Japanese: ケイリ - Keiri) |

NAME INTERPRETATION:
The name Keiri is deprived from her author's Chinese name translated into Japanese.

TYPE: SiNGloid
MODEL: SiNGloid_006i

GENDER
Female
VOICE RANGE

G2-C4 (g+15)

B3-D5 (normal)

RELATED CHARACTERS

'Kairu' (Achieved from genderbend, her brother)

Tenshi Mizune ( Enemy & fellow SiNGloid)

Tori Chang (friend)

Ui ( friend )

AGE
18
GENRE
---
HOMEPAGE
-Homepage in progress -
WEIGHT
54kg
CHARACTER ITEM
Poisonous Toadstool ( the red and white spotted ones )
CREATOR
MaidenPhoenix
HEIGHT / MEASUREMENTS
168cm
VOICE SOURCE
MaidenPhoenix
PICTURE LINK LIST
CONCEPT ART, PIAPRO, PIXIV, , GOOGLE IMAGE, DeviantART PHOTOBUCKET
BIRTHDAY
May 13th, 1992
LIKES
Snow, Mushrooms, Nature, reading, plantation.
MEDIA LIST
RELEASE DATE
November 23, 2010
DISLIKES
-None-
COVER SONGS
PERSONALITY: Keiri is a nature lover and has a strong liking to plants and fungi. Her favourites are mushrooms. She's get nasty when you provoke her and her eyes will glow bright red. Other than that, she's a rather kind and helpful girl who likes to joke at times and she tries to sing songs with all of her heart. She can be really violent sometimes.
Supplemental Information
'The third SiNGloid produced by MaidenPhoenix and the series of SiNGloids. The model name' "SiNGloid " is deprived from her country, 'Singapore' combined with' UTAUloid'.
Hair color: Dark blue
''Headgear'': Maroon ribbon with a black stripe of her side ponytail.
Eye color: Red
Earphones: Seldom drawn/used but yes.
Nationality : Singaporean
Race : Chinese-Japanese
Concept Art / BoxArt :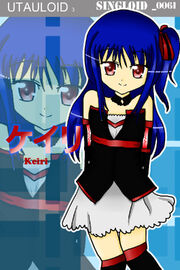 Voice Configuration
TECHNICAL INFORMATION
Keiri (ケイリ)
ARCHIVE FILENAME
ケイリ_ACT_2.rar
ARCHIVE FILESIZE
27,063,268 bytes

( as of 4th July 2011 )

DATE RELEASED
Version 1 released November 23rd 2010.
NO. OF VOICE PHONEMES
174
TOTAL UNCOMPRESSED SIZE

39,941,619 bytes

( as of 4th July 2011 )

PHONEME ENCODING

Romaji with Hiragana aliases

AVERAGE FREQUENCY
218.5 Hz (A3)
FRQ FILE PRESENCE
YES
LANGUAGES SUPPORTED

Japanese

(As of November 23rd, 2010)

UNOFFICIAL SUPPORTED LANGUAGES
BRAZILIAN, PORTUGUESE, SPANISH, FRENCH, ENGLISH
OTO.INI PRESENCE
YES
TUNED OTO.INI
YES
LANGUAGE PARSED VIA OTO.INI
NONE
VOICEBANK AUTHOR
MaidenPhoenix
TECHNICAL DIRECTOR
MaidenPhoenix
RECORDING SOFTWARE USED
OREMO

DOWNLOAD LINKS:

SPECIAL NOTES:

The owner has decided that Keiri will remain a single language utauloid.

If there's any feedback, please PM MaidenPhoenix at Youtube.