Kein Yoshida

(けいん  吉田)

Type: None

Model: Pld:356

Name Meaning: Kein (Derivative of Kain and Chein (Chain))

      Yoshida (Lucky)

Gender
Male
Voice Range
A#2~D#4
Related Characters

Karasu Yoshida (Brother)

Kamui Yoshida  (Brother)

Mi Minami (Friend)

Age
27
Genre
Instrumental, Classical
Homepage
Main Page
Weight
57 kg (125 lb)
Character Item
A Wok
Creator
Oblivion772
Height
178 cm (5'10")
Voice Source
Oblivion772
Picture Link List
None
Birthday
September 21st
Likes
Cooking, sunrises, gardening, ginger (food)
Media List
Soundcloud
Release Date
January 9th, 2016
Dislikes
Seeing people in pain, cities
Signature Song
None

Personality: He has a fairly transparent personality, kind and understanding, willing to help anyone in need. He has a weak sense of duty towards his country, preferring to help the people within it instead. While it may be seen as a good trait of his to be so giving, he often times forgets his own needs and goes through trials in order to spare others.
Voicebanks:
CV:
Version 1: Download here!
Version 2: Included in CVVC
CVVC:
Version 1: Download here!

CVVC/VCV/CV:
Version 1: Coming Soon!
English VCCV:
Version 1: Coming Soon!
Songs (Descending by date released):
VOiCE (Release for CVVC)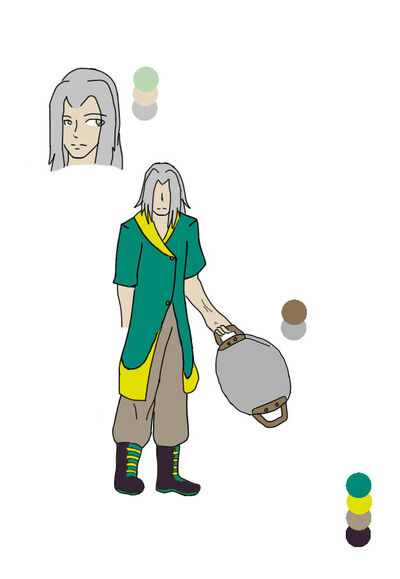 Just be Friends (Release for CV)
Fun Facts:
-Kein was designed months before I even knew about UTAU, his original name was Chein, he had no brothers, much spikier hair, and acted much more like Karasu.
-As an avatar in Fire Emblem Awakening, Kein was a paladin, meant to be a character used purely for support purposes.
-Kein was meant to be the child who stood out, thus his eyes are green and he doesn't share his brothers affinity for magic.
Terms of Use:
Kein Yoshida is a free voicebank, you are not allowed to make money by using it (Not including commissions). You may not  redistribute this on your own. Should you wish to distribute changes made to the voicebank, contact me.
Use of Kein Yoshida is allowed in video covers, music covers, and choruses. If you use him, you must identify that he is in the song.
Commercial use of Kein Yoshida and his likenedd is forbidden without prior permission to do so. For permission, contact me by email or other means.
Use of Kein is allowed in any non-commercial for without permission, including scenes of graphic intent.
Community content is available under
CC-BY-SA
unless otherwise noted.