KAZ KEMURINE


(Japanese: 煙音カズ - けむりねかず - Kemurine Kaz)

煙音 (Kemurine; Smoke Sound) - A reference to the enigmatic nature of vampires, and how they tend to "vanish into smoke".
カズ(Kazu; Kaz) - A shortening of Castiel (カスティエル), his full name.
TYPE: UTAUloid
MODEL: 

µ08

GENDER
Male
VOICE RANGE
G#2 - A4 (Default multipitch voicebank)
RELATED CHARACTERS

Karasu Yuutsukoe (Close friend, fellow "weird bird thing")

Ham  (Close freind, seen as an annoyance)

Kimine Kiichigo (Close friend)

Luna Ichine (Close friend, seen as a rival of sorts)

Akiharu Kiichigo (Friend, seen as an annoyance)

Yui Akine (Friend)

AGE
516 (appears 16)
GENRE
Vocarock, Rock, Electonic
HOMEPAGE
muginet
WEIGHT
140 lbs (63.5 kg)
CHARACTER ITEM
A mysterious leatherbound book.
CREATOR
mugi
HEIGHT
6'3" feet (190.5 cm) 
VOICE SOURCE

mugi

PICTURE LINK LIST
CONCEPT ART , PIAPRO, PIXIV, DEVIANT ART, GOOGLE IMAGE, PHOTOBUCKET
BIRTHDAY
December 8, 1497
LIKES
Reading, solitude, the night, baguettes, clementines, macarons, heights.
MEDIA LIST
NICODOUGA, YOUTUBE
RELEASE DATE
TBA
DISLIKES
Shy People, Annoying People, Most Sweets, Losing/Failing, Getting Yelled At
SIGNATURE SONG
Ringo Karenka
PERSONALITY: Kaz is reclusiva and can somewhat be considered a misanthropist. He enjoys the solitude of a quiet enclosed space, where he can be left to his own devides. Most of the time, he'll indulge himself in a book or two, however it isn't uncommon for him to make himself a snack. Around people, he can be a tad aversive, however if he feels fond enough towards a person he can open up. Trope-wise, he can be considered a kuudere.
Supplemental Information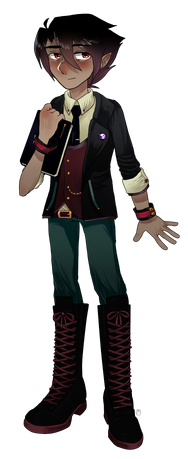 Hair color:
 Black w/ a gradient towards purple near the bottom.
Headgear:
 None
Eye color:
 Red
Earphones:
 None
Dress:
 A formal dark navy blue dress top, dark blue, and black knee-high combat-style boots with red laces.
Nationality/Race: Vampire (presumably of Eastern European/French/African descent).
Relatives: Kaz has a younger sister named Remi (Remiel). Her voicebank is currently in production.
History / Robert Yorune: Kaz is a major revamp (haha vampire joke) of mugi's older UTAU "Robert Yorune". Mugi had decided that, while the original voice type had potential, the overall theme of a "ninja with a dark past" was too trite and stupid. So, he turned Robert into a vampire, and gave him a much better design. Robert Yorune has since been re-classified as a joke UTAU considering his poor quality.
Other: Kaz has gone through many design changes, with his overall concept being in production from over a year. Kaz's oringinal last name was Kemune Kaz, however this was modified to better fit the kanji reading.
Voice Configuration
VOICEBANK INFORMATION

NOTE: These settings are for Kaz's Lite VCV ver1.00
ARCHIVE FILENAME
煙音カズ連続音ver1.0.rar
ARCHIVE FILESIZE
248 

MB

DATE RELEASED
12/25/13
NO. OF VOICE PHONEMES
1419
TOTAL UNCOMPRESSED SIZE
447 MB
PHONEME ENCODING

Lite VCV

AVERAGE FREQUENCY
G#3
FRQ FILE PRESENCE
Yes
LANGUAGES SUPPORTED
Japanese 
UNOFFICIAL SUPPORTED LANGUAGES
additional samples added to help handle non Japanese words
OTO.INI PRESENCE
Yes
TUNED OTO.INI
Yes
LANGUAGE PARSED VIA OTO.INI
Japanese
VOICEBANK VOICER

mugi

TECHNICAL DIRECTOR
mugi
RECORDING SOFTWARE USED
Oremo
VOICEBANK EXTENSIONS PRESENT
-
DOWNLOAD
Community content is available under
CC-BY-SA
unless otherwise noted.