KAON YUUTSUU


(Japanese: 

憂鬱

歌音 - Yuutsuu Kaon

)

NAME INTERPRETATION:

憂鬱(Yuutsuu): Melancholy/Sorrow/Sadness; 


歌音(Kaon): Singing/ Voice/ Sound

TYPE:

UTAULoid.


MODEL: RC-IXF001
GENDER
Female 
VOICE RANGE

G3 - G#5

RELATED CHARACTERS

Kukuro Rinto (Fellow IXF-loid)

Deyuu! (Fellow IXF-loid)

Arai Tsurine (Fellow IXF-loid, KAON BETA)

AGE

13

GENRE
ANY
HOMEPAGE
 - 
WEIGHT

39kg

CHARACTER ITEM
Broccoli 
CREATOR
kurokurinka001
HEIGHT / MEASUREMENTS
149cm
VOICE SOURCE
kurokurinka001
PICTURE LINK LIST
DeviantArt
BIRTHDAY

January '21th

LIKES

Nap, Bear, Brocolli.

MEDIA LIST
RELEASE DATE
October 6th,

2012

DISLIKES

Cruel People, Hurt People.

SIGNATURE SONG
PERSONALITY:

Kaon is a mysterious person who have a really sweet and kind personality towards people. She is really shy and it's really difficult for her to socialize with others. She love being cool. Sometimes she feels lonely and melancholy. Some people always mistaken about her age and her gender.
Supplemental Information
See design below!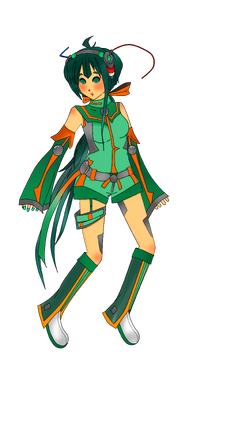 Nationality/Ethnicity: Indonesian
Catchphrase: "Broccoli!!"
Extra Character Relation
Kia Izumi (Close Friend,sister like figures)
Kio Izumi (Close Friend,brother like figure)
Kurota Ryuuto (Friend)
HIDEKO (Friend)
Megao (Friend)
Kunti Airine (BestFriend)
Fuusaki Kazune (Big Brother like figure)
Facts
She is really childish.
Some people may think she sounds older than her age.
She hates weaboo but she is a weaboo.
She is mentally ill.
Kaon earlier name is Shinji Airone. (Shinji/Sinji: First; Airone: Some kind like, Airy one; her names mean: the first airy voice the author have ever made.)
IXFLOID, is Authors school years/grade/class. IX-F/9-6. IXFLOID means the "android/utauloid that comes from IX-F."
Voice Configuration
Kaon voice bank is only japanese and supports Hiragana and Romaji.
Kaon Yuutsuu most latest voice bank information:
Yuutsuu Kaon ACT 3.0

ARCHIVE FILENAME

N/A

ARCHIVE FILESIZE

N/A

DATE RELEASED

03 February 2013 (RAW version)

NO. OF VOICES

136

TOTAL UNCOMPRESSED SIZE

23.670.784 bytes

PHONEME ENCODING

Romaji (Hiragana aliases)

AVERAGE FREQUENCY

233.6 Hz (A#3)

FRQ FILE PRESENCE

YES

LANGUAGES SUPPORTED

Japanese

UNOFFICIAL SUPPORTED LANGUAGES

NONE

OTO.INI PRESENCE

YES

TUNED OTO.INI

YES

LANGUAGE PARSED VIA OTO.INI

NONE

VOICEBANK AUTHOR

kurokurinka001

TECHNICAL DIRECTOR

kurokurinka001

RECORDING SOFTWARE USED

OREMO

DOWNLOAD LINKS:

(15/03/14) Kaon Yuutsuu ROCK Download

 (2013)    Kaon Yuutsuu ACT3 Download
Usage Clause
Please DO NOT claim this voice bank as yours.
Please DO NOT distribute this Voicebank, with or without my permission.
Feel Free to use her and CREDIT to the AUTHOR.
Please DO NOT use her for SARA things.
Please note that THIS VOICE BANK IS NOT FOR PUBLIC SELL.
This Voicebank Belongs to IXFLOID-PROJECT.
Pitching the voice and changing the design are not Allowed with/without the creator permission.
DO NOT CHANGE EVERYTHING FROM THIS BANKS.