KANAKA TORA


(Japanese: 金歌トラ )

NAME INTERPRETATION:
金歌トラ

金歌 (Gold-song) トラ  (Tiger)

Gold song represents Her rings around her arms and wrist, and her ear.

Tiger represents the love of tigers, and part tiger

TYPE: NONE
MODEL: NYA-loid 95
GENDER
Female
VOICE RANGE
C4-C5
RELATED CHARACTERS

Amaterasu Omoiyari (Friend)

AGE
20
GENRE
any
HOMEPAGE
http://kanakatora.weebly.com
WEIGHT
unknown
CHARACTER ITEM
Plush Tiger
CREATOR
'Kittykat2o1o/'melobunii(P)/

buniicake(s)

HEIGHT
4'8" feet (142 cm)
VOICE SOURCE
'Kittykat2o1o/'melobunii(P)/

buniicake(s)

PICTURE LINK LIST
DEVIANTART
BIRTHDAY
March 10
LIKES
Plush tiger, Hibiscus Tea, Salmon Sushi, Cats, Tigers
MEDIA LIST
Coming soon.
RELEASE DATE
March 10, 2013
DISLIKES
Dogs, Lions Mac&Cheese, Sukone Tei
SIGNATURE SONG
None
PERSONALITY: Tora can be whiney when someone doesn't get what she wants, sometimes a little snippy.She is very fun, playful, LOVES YARNS ALSO Victorian Pianona, She always follow Victorian like a lost kitten, always sit by her, annoys her, beg to play, ect. Victorian tries to avoid her, but when she does, Tora gets whiney.
Supplemental Information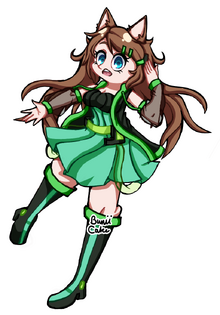 Hair color: BROWN
Headgear: BLACK
Eye Color: SKY BLUE
Voice Configuration
March 24, 2013 Kanaka Tora 1.2 CV resampler.exe wavtool.exe
January 1, 2014 Kanaka Tora WINTER CV Resampler.exe wavtool.exe
March 13, 2014 Kanaka Tora 2 CV Resampler.exe wavtool.exe
Usage Clause
Please read her T.O.S on her website.
TERMS OF USE and GUIDELINES for Kanaka Tora
The guidelines and terms of use in this file is provided for users of the UTAU Vocals distributed on "Kanaka Tora", or by the manager of these vocals, Melobunii/Buniicake(s). To use the Vocals in any form or medium, you must agree to this license.
NOTES
Keeping this in mind, please use Tora's at your own discretion. You may easily contact me on both deviantART 
(buniicake)  and Twitter (buniicakes) if you are unsure of artwork content or a song's lyrics.
All content in this page is maintained and verified by me. Tora's voicer and creator and co-owner, CoffeeHeist. All edits to this page should be done with care. The details seen here may be subject to change without prior notice.
Community content is available under
CC-BY-SA
unless otherwise noted.