KAMOKU

(Japanese: 科目 - かもく/ カモク - Kamoku)

NAME INTERPRETATION:
科目 (Kamoku; shy. Can also mean 'subject'.)                                                                                                                                                                                                           Should rather be written in Katakana (カモク) than in Kanji.

TYPE: NONE

MODEL: NONE

GENDER
Female
VOICE RANGE
F3~B4
RELATED CHARACTERS

Kamoto (brother and counterpart by pitch manipulation)

Miyoru (same creator; cousin)

Akarui Yozorane (good friend)

Usa Okubyona (friend, but wouldn't admit)

AGE
18
GENRE
Pop, Ballad
HOMEPAGE
None.
WEIGHT
59 kg
LANGUAGE
Japanese.
CREATOR
miruii
HEIGHT/MEASUREMENTS

165 cm / 55

C-Cup

VOICE SOURCE
miruii
PICTURE LINK LIST
OFFICIAL CONCEPT ART REFERENCE SHEET ILLUSTRATOR'S dAGOOGLE IMAGES
LIKES
Jägermeister
ILLUSTRATOR
miruii
MEDIA LIST
RELEASE DATE
April 19, 2014
DEMO
SIGNATURE SONG
PERSONALITY: She is described as quiet and restrained.
Supplemental Information
Hair color: Strawberry blond
Eye color: Bronze.
Dress: See concept art.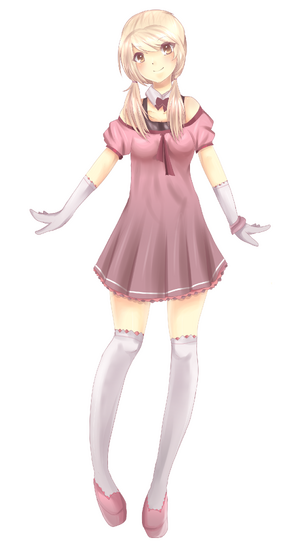 ->
Nationality: Japanese-german.
Voice Configuration
Kamoku is a bilingual UTAU, she can sing in japanese and german. Her japanese Voice data is written in hiragana. German CV-VC is still in progress.
Recommended settings: flags - Y0H0g-7 / Resampler: TIPS.exe
Voicebank downloads (Japanese):
VCV/連続音-VCV bipitch VIVID -
in work. contains 2 pitches.
VCV/連続音-VCV monopitch CALM -
VCV monopitch Voicebank ''CALM''
Recommended settings: Y0H0B0g-6 / TIPS.exe
CV/単独音
Recommended settings: Y0H0B20 / resampler.exe or fresamp.exe
Usage Clause
Please do not claim the voicebank as your own.
Please contact the creator before making changes in the voicebank.
Please do not edit any .wav or .txt samples.
Do not claim the voicebank as a different character or use the voice for an other character than Kamoku.
No commercial use.
Please ask the creator first before distributing the voicebank.
Feel free to contact Kamoku's creator if you have any questions.
Gallery
Community content is available under
CC-BY-SA
unless otherwise noted.