KAMIREI


(Japanese: 神霊 - かみれい - Kamirei)

NAME INTERPRETATION:
神 (Kami; The term for God in Japanese.)
霊 (Rei; Soul or spirit)
TYPE: UTAULOID
MODEL: +001
GENDER
Female
VOICE RANGE
C4-C5
RELATED CHARACTERS

Himeka Kagene (wife)
Satsuki Kagene (has a desire to kill, for unexplained reasons)
LUMI (lost twin) Ryou Wakahisa (cousin)Betül-Chan (Dino Form) - (Partner)

AGE
16
GENRE
DARK
HOMEPAGE
Dark-scythe
WEIGHT
99.2 lbs (45 kg)
CHARACTER ITEM
milk and scythe
CREATOR
Godley M.
HEIGHT
5'3" feet (160 cm)
VOICE SOURCE
Godley M.
PICTURE LINK LIST
CONCEPT ART, PIAPRO, PIXIV, DEVIANT ART, GOOGLE IMAGE, PHOTOBUCKET
BIRTHDAY
April 22
LIKES
cute things, milk, reaping with her scythe,drawing, yaoi manga
MEDIA LIST
NICO NICO DOUGA, YOUTUBE
RELEASE DATE
April 27, 2010
DISLIKES
Perverts, harsh critiques and people bullying her little sister
SIGNATURE SONG
NONE
PERSONALITY: Kamirei is the type who likes to tease people and play pranks on them. Her jokes can sometimes be mean and offending but it's actually her way of showing her affection. She is a bit stubborn but she'll immediately obey when it's Himeka who orders her around. She doesn't hesitate to stab people who mistake her as a boy with her scythe. 
Supplemental Information
Hair color: black
'Eye color: red
Earphones: white (seldom worn)
Dress: Black coat with a ribbon at the back
Nationality/Race: Filipino-Japanese
Other Related Characters
Groupmates
Close Friends
Others
Download Links
Her voice range lies within C4-C5
All her voice banks are in Romaji and aliased in Hiragana for western users
Lite VCV has the same quality as APPEND COLD; contains cv and vcv samples
ACT 3 has clearer and good quality recording; it can also sing in Filipino(Tagalog) and Japanese
Append Cold has a higher quality and is a lot clearer than ACT 3 but lacks in Tagalog/Filipino phonemes.
■'■ 'No longer distributed
■ Append LIGHT
■ Append Vibrant
■ ACT 1 CV
■ ACT 2 CV
MMD
■ Kamirei LAT Model download (model by Suminochan)
Official Character Design
character item: scythe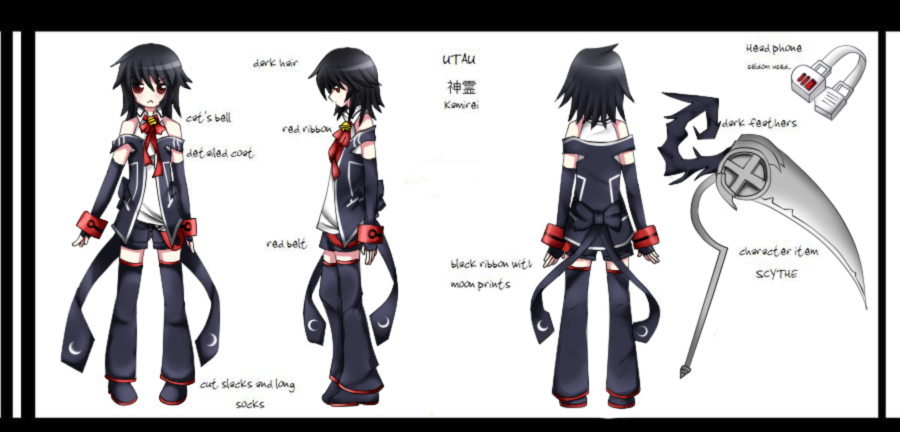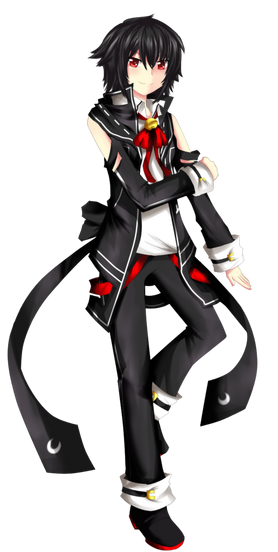 Her old design used to have an over-detailed blue coat and white slacks (view it here ) but since there were complaints on how hard her design was, the author decided to make an alternate one for her. The author has already confirmed that this will be Kamirei's final concept design.
A VCV design (right) has also been given to her.
Information in this page was provided by the author, Godley M. The contents of this page is subject to change without prior notice.