KAERU KOWAIRO


(Japanese: 声色変える - こわいろかえる - Kowairo Kaeru)

NAME INTERPRETATION:
声色 (Kowairo; Tone of Voice)
変える (Kaeru; Change)
Combined it together and meaning "Changing tone of voice"

TYPE: MONOloid
MODEL: MNL01 - Laminated at the back of his coat
GENDER
Male
VOICE RANGE
F#3 (B2~D6)
RELATED CHARACTERS
Kaoru Kowairo (Younger sister; Female counterpart by pitch manipulation)


Kaeri Kowairo (Youngest sister)


Taezu Kowairo (Older brother)


Mai Kowairo (Mother)


Yuna Kion (Childhood friend/Fellow MNL member)


Yuki Oruganne (Lover/Fellow MNL member)


Rei Daisanne (Best friend; Fellow MNL member)


Ren Ikune (Best friend/TreeTrio)


Tsuyoi Reon (Bro/Fellow MNL member)


AGE
18 (Official Age)
GENRE
Any
HOMEPAGE
Kaeru Kowairo's Blog
WEIGHT
150 lbs (68kg)
CHARACTER ITEM
Metallic-purple viola, Platycodon
CREATOR
Aeri (dA/Twitter)
HEIGHT
5'8 ft (175cm)
VOICE SOURCE
Aeri
PICTURE LINK LIST
CONCEPT ART, DEVIANT ART, TUMBLR, PIAPRO, PIXIV, GOOGLE IMAGE
BIRTHDAY
October, 5
LIKES
His friends, Yuki Oruganne, flowers
MEDIA LIST
NICO NICO DOUGA, YOUTUBE, SOUNDCLOUD
RELEASE DATE
October 5, 2011
DISLIKES
Yandere(s), creepers, stalkers, frogs
SIGNATURE SONG
FLOWER TAIL
PERSONALITY: A shy and awkward UTAUloid that hides most of his expressions neutrally. He's the leader of MONOloid where he recruits other UTAUs from different creators. Kaeru is slightly clumsy person and tries to cover his mistakes by blaming his friends when he's embarrassed. He constantly feels vulnerable most of the time.


Kaeru has a platonic friendship with Yuna Kion, they hold a special place in each other's heart. He often hangout with Ren Ikune and Rei Daisanne. Hi while they teased him by calling him "Frog-chan" and he gets mad over it. He is also one of Wakana Ayane's bully victim.


Kaeru has a traumatic experience with yandere (ヤンデレ) due to having to deal with Kaoru's possessive behavior. He doesn't defend himself whenever Kaoru tries to hurt him.
Character Design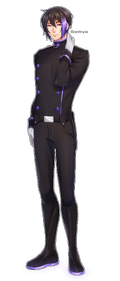 Hair color: Black with medium slate blue (purple) highlight on his right side
Eye color: Medium slate blue (purple)
Top: Black and medium slate blue(purple) accessories
Glove: White
Belt: Back with silver buckle
Pants: Black
Boots: Black with medium slate blue (purple) illuminations

Nationality: Malaysian-Japanese
Favourite phrase: じゃ、帰るましょう。 (Jya, kaeru mashou; Well, let's go home.)
Voice Configuration
5th October 2011 - ACT1 (CV) currently supports Romaji and Hiragana.
Download: http://www.mediafire.com/?fkmx28337natnwk
ACT1 fixed oto.ini: http://www.mediafire.com/?r42occ5aykc3ju9
His ACT1 is best with TIPS.exe
24th April 2013 - ACT1.5 (CV) supports Romaji and Hiragana.
Download: http://www.mediafire.com/?d9mfqgyxxl7ezc1
20th April 2014 - ACT2 (CV) supports Romaji and Hiragana.
Download: http://www.mediafire.com/?0m518lne8skflo0
13th February 2018 - ACT3 (CV) supports Romaji and Hiragana.
Download: http://www.mediafire.com/?6vfdpnsp1nup959
Genderbend
Kaoru's voice can be gotten by setting Kaeru's flag between g-10 and g-12
MNL Members
Extra Related Characters
Facts
DO NOT spell his name in Katakana. It must always be written in Kanji.
He has a mother and an older brother (They're not an UTAUloid as they don't have a voicebank)
His viola can either be an acoustic viola or an electric viola.
He brings back home new friends and united as a family (MONOloid)
He has his own team with Ren and Rei which is "Pokok Trio" (Tree Trio)
He has a soft spot for cute things (lol)
His surname name can be mistaken from "Kowai" to "Kowaii", which means "scary".

Certified true and correct from Kaeru's creator, Aeri. The contents of this page is subject to change without prior notice.
Community content is available under
CC-BY-SA
unless otherwise noted.