Kaarorin Kitto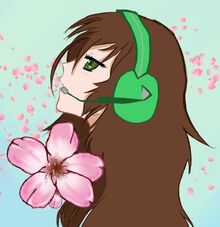 (Japanese:  きっと カーロリン/Kitto Kaarorin)
Name Interpretation: 
きっと (kitto): Means definitely, certainly"
カーロリン (kaarorin): Derived from Carolyn. Cannot be written correctly in Japanese, so it is written as Kaarorin. ===
GENDER
Female
VOICE RANGE
G3~E5
RELATED CHARACTERS
???? (Brother. WIP.)

Shinai Kaarorin (Alter ego)

AGE
17
GENRE
Any
HOMEPAGE
I have a website!
WEIGHT

111 lbs

(50.3488 kg)

CHARACTER ITEM
Instant Noodles
CREATOR

Cat

(kaarorinowner33)

HEIGHT

5'4"

(153.6192 cm)

VOICE SOURCE

Carolyn

(kaarorinowner33)

MEDIA
Youtube
BIRTHDAY

August 15

LIKES
Hot chocolate, candy, music, computers, CATS!, instant noodles
PICTURE LINK LIST
None
RELEASE DATE
December 23, 2014
DISLIKES
People, socializing, dogs
SIGNATURE SONG
Ehhhh she'll get one.
Bonus! Her favorite phrase is "Instant noodles are my favorite food!"
Supplemental Information
Hair: Dark Brown
Eyes: Olive Green or Brown ("They change along with my mood." -Carolyn(kaarorinowner33))
Favorite Color: Olive Green
Favorite Food: Instant Noodles
Voicebank Information
OLD CV VOICEBANK:
Romaji compatibility only
Outdated!
NEW CV VOICEBANK
Soon to be released
Hirigana only
Still a bit glitchy
Song List
Covers:
Creator Trivia
Lives in the United States
Loves voice acting, drawing, and instant noodles.
Pictures
Community content is available under
CC-BY-SA
unless otherwise noted.