Jinx Nyota


Japanese: ジンクス ニオタ

NAME INTERPRETATION:
Jinx - (Harbinger of misfortune)

Nyota - (Star)

TYPE: FURLOID
MODEL: Organic
GENDER
MALE
VOICE RANGE

G2~F#5

Notes above optimal range should be used sparingly.

RELATED CHARACTERS

(Fiancé)

Mooza Kemono (Friend)

(Friend)

AGE
17 (23)
GENRE
Most/All (Punk Rock)
HOMEPAGE
WEIGHT
133 lbs.

(33.61 kg)

CHARACTER ITEM
Star Stickers
CREATOR
magicoone

HEIGHT /

MEASUREMENTS

5ft 11in (180 cm)

VOICE SOURCE
magicoone
PICTURE LINK LIST
BIRTHDAY

May

16th

LIKES
Pizza, Cross Dressing, StarStickers,

Green, Rain.

MEDIA LIST
Furaffinity
RELEASE DATE
No Official Release
DISLIKES
Onions, Expectation, People. Conflict
SIGNATURE SONG
Pierrot
PERSONALITY: Jinx is pretty reserved and avoids social interaction and situations, he keeps mainly to himself, except when it comes to his Fiancé, Jinx likes to pretend to be a puppy or a bat and can even become either, depending how he feels. He enjoys simple things, but can easily get very stressed and nervous when faced with conflict or expectation, additionally whenever Jinx becomes nervous he hiccups uncontrollably.
Supplemental Information
Hair: Jinx has black medium-long hair that goes to the bottom of his shoulder blades, the sides of the hair rest over his shoulders and go past his collar bone, Jinx's fringe is very heavy and grows down to his chin. His left eye is usually covered by his neon green fringe.
(Jinx can be seen with multiple different hair styles as a long as visual elements of his original hair remain.)
Eyes: Jinx has eyes that droop and are neon to blood red in colour.
(Jinx actually has blue eyes and wears contacts.)
Body: Jinx has three claw marks on both sides of his upper arms. His nose, stomach, chest and tail tip are a darker shade of grey from the rest of his body, He has a slender build with slight feminine curves and has very minor muscle definition on his upper arms. Jinx's tail and ears are longer than average especially his ears.
Clothing: He has a red neck bandanna, a torn orange top, black skinny jeans with yellow trims, a white belt and gold star buckle, he has a star sticker on the cheek opposite his fringe, but can be seen wearing additional stars anywhere on his person. Jinx also wears a rainbow engagement ring on a short necklace.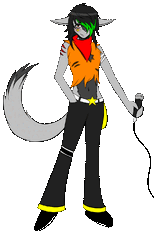 (Jinx can wear anything, but would most likely wear feminine or punk inspired clothing.)
Optional:
Black flared arm warmers with yellow trims.
Black Shoes.
Languages: English, Dansk, 日本語.
Nationality/Race: British/Wolf
Favorite Phrase: Jeg er ("I am" in Danish)
Voice Configuration
--- All Users Please Note Jinx Nyota is Private Distribution. Ask Magicoone of FA for the voicebank. ---
OLD VOICEBANKS...
Jinx Nyota ($TAR-L!TE): Jinx's Core Voice Bank. It is incomplete. Has extra sounds and is compatible with most songs. It's clear, though users should keep tabs on volume, particularly with the i sounds.
Jinx Nyota (Append-Whimper) : Jinx's first append. Suited for sadder; slower songs.
Jinx Nyota (Append-Bitch): May be re-recorded at sometime in the future.
Jinx Nyota (Append-Howl) v0.5: Jinx's more solid influenced bank recorded with an old microphone.
Jinx Nyota (Append-Howl) v2.0: Jinx's older solid voicebank recorded on a newer microphone.
Jinx Nyota ($TAR-BR!TE): This was suppose to be an Act 2 of his original voicebank having a much softer tone of voice and being less harsh then the original, however I do not consider this an improvement.
Jinx Nyota ($TAR-SH!NE): May be re-recorded at sometime in the future as a CV voicebank.
NEW VOICEBANKS...
Jinx Nyota (Shout) v6.0 : This bank is not fully oto'd and may be missing sounds. If used some manual work maybe required to get desired sound. This bank may be completed at a later date.
Jinx Nyota (Simple) v1.0 : This is a single pitch VCV bank with a neutral vocal tone. it is fully oto'd but is missing some 3 syllablel sounds. I find this bank works with slower, mundane sounding songs.
Jinx Nyota (Playful) v1.0 : This is a single pitch VCV bank with a high energy vocal tone. It is fully oto'd, but suffers from missing a few 3 syllablel sounds. This bank works decently in higher pitches and high energy songs.
If you wish to make an enquiry about any voicebanks please contact me for further information.
Notable Works
Poker Face - Jinx Nyota Act 3 ($TAR-SH!NE) 2012 Cover
Corruption Garden - Jinx Nyota (Shout) 2013 Cover
All Across The Nation (Beyblade) - Jinx Nyota (Shout) 2013 Voicer Comparison
Upside Down - Jinx Nyota (Shout) 2014 English Demo
Babylon - Jinx Nyota (WIP Bank) 2016 WIP
Heart Beats - Jinx Nyota (Playful) 2017 Release
Morose Make-Believe - Jinx Nyota (Simple) 2017 Release
World's Lampshade - Jinx Nyota (WIP Bank) 2017 WIP
Leave - Jinx Nyota (WIP Bank) 2017 WIP
Tokyo Teddy Bear - Jinx Nyota (WIP Bank) 2018 WIP
Contact Details
Skype: magicoone
Email: magicoone@hotmail.co.uk
Soundcloud: magicoone
Usage Clause
Redistribution and re-uploading of voicebanks requires prior permission. Redistribution of edited / modified voicebanks requires prior permission.
Do not illustrate character in a sexual or explicit manner without prior permission from his creator.
Please refer to voicebank readme.txt for further information regarding the Usage Clause. Thank-You.
This article is written and certified true and corrected by magicoone, the creator of the character and UTAU Jinx Nyota. The details seen here may be subject to change without prior notice.