IZUNE


(Japanese: 伊豆音 - いずね - Izune)

NAME INTERPRETATION:
伊豆音 (Izune; Izu Sound) - Taken from the author's name.
ALIAS: ベル (Beru; Bear)

TYPE: MONOloid
MODEL: MNL09 - Printed on the front screen of her left wristband.
GENDER
Female
VOICE RANGE
D4 (G3~C5)
RELATED CHARACTERS
Kuru Utaune (Imaginary Toshio)


Zuine (Genderbend by pitch manipulation)

AGE
UNKNOWN
GENRE
Any
HOMEPAGE
Izune's Blog
WEIGHT
49kg
CHARACTER ITEM
Hash browns, chocolate milk
CREATOR / CONTRIBUTORS
Annie (Voicer/Art)
HEIGHT / MEASUREMENTS
160cm (5'3ft)
VOICE SOURCE
Annie
PICTURE LINK LIST
CONCEPT ART, DEVIANT ART, TUMBLR, PIXIV, PIAPRO, GOOGLE IMAGE
BIRTHDAY
21st December
LIKES
Kuru Utaune, gazing at other male UTAUs, Toshio (Ju On's boy)
MEDIA LIST
NICO NICO DOUGA, YOUTUBE
RELEASE DATE
1st February 2012
DISLIKES
Pudding, Summer season
SIGNATURE SONG
Panda Hero
PERSONALITY: Not much is known about her but it is observed that she acts like a creeper.
Character Design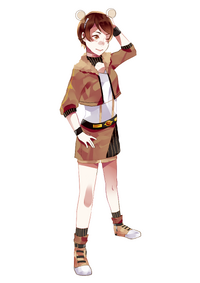 Hair color: Auburn
Headgear: White with holographic bear ears
Eye color: Hazel
Top: White
Jacket: Brown, black & yellow lines
Belt: Black & yellow
Skirt: Brown
Shorts: Light brown
Socks: Black & brown
Shoe: Brown, light brown, & white

Nationality: Malaysian
Favourite Phrase: くるるる~ (Kurururu~)
Voice Configuration
Izune's voicebank is set to private and only distributed among the creator's close friends.
Genderbend
Zuine voice is achieved by applying the parameter g+12.
Extra Character Relation
MNL Members
Facts
Practices everyday to try to like pudding just because Kuru likes it (not working though)
She finds tomboys/female cross-dressers attractive.
Attracts pandas a lot.

Certified true and correct from Izune's creator, Annie, Nami, and Aeri. The contents of this page is subject to change without prior notice.
Community content is available under
CC-BY-SA
unless otherwise noted.