Ivan Akuro


Japanese:悪ろイワン( Akuro Iwan)

Name Interpretation:

悪(aku,evil) ろ("ro",from"android")

TYPE: TK-s
Model: 015
GENDER
Male
VOICE RANGE
C2-F4
RELATED CHARACTERS

Katie Amakura,Best Friend, love interest, same type Sophie,Friends, same type

Star, Friends, same type

SteveKnow, same type

AGE
15
HOMEPAGE
For now,none
WEIGHT
57KG
CHARACTER ITEM
AK-47
CREATOR
TheKatie2145
HEIGHT
1.70cm
VOICE SOURCE
TheKatie2145
Picture link list
[1]
BIRTHDAY
February 15( date that was desgined)
LIKES
apples,guns(but not to hurt people), Katie, pandas
MEDIA LIST
[2]
RELASE DATE
10/07/2012
DISLIKES
To annoy his friends,Kagamine Len
SIGNATURE SONG
N/A
PERSONALITY
Gentle, kind, quiet, a little clumsy
Supplemental Information
Hair Color: Medium carrot
Eye color:orange
Dress:Dark red shirt with black, sleeveless jacket and hooded gray, dark gray pants, belt with hanging red and dark gray snickers, white and red.( His clothes has something like a heart rate, also his belt)
Nationality/Race:Argentinian , half human, half android
Favorite phrase:"I always remember the moments together ..."
-He is not afraid to tell the others that he fells in love, but when he is with Katie, he says "that's no true!"
-He and the TK-s has an ask-blog
-He can not be paired with other utau
-In his left eye, he has a binary code, but is difficult to notice it (it can be notice when he is in a very dark room)
-At first his japanese name was いばん(Iban), but then his creator (TheKatie2145) decided to change it to イワン(Iwan), because for her, sound more "funny"
-His item is an AK-47, because his creator want something original and she was playing Call of duty while she was making Ivan's design
-Ivan hates Kagamine Len
.Behind his snickers, he has two smalls rockets
-He loves pandas
Voice Configuration
His voice is in japanese but do not rule the idea of making a voicebank in Spanish
Flags: Y0H0g-4
ACT.3 can be download http://www.4shared.com/rar/XneaCa_S/Ivan_Akuro_ACT_3.html?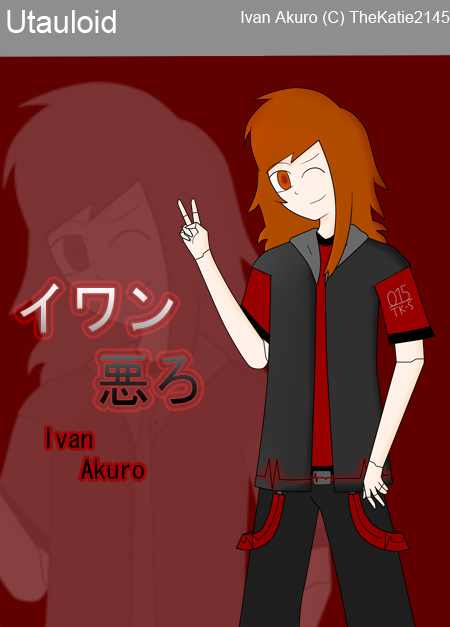 Community content is available under
CC-BY-SA
unless otherwise noted.