ISAMU LEI

(Japanese-Chinese:勇雷 / '勇レイ' - Japanese: いさむレイ- Isamu Lei)

NAME INTERPRETATION:

勇(Isamu -Japanese Name-;Bravery)

雷 / レイ(Lei -Chinese Name-;Thunder)

TYPE: UTAULOID / RIMOCONLOID

MODEL: RC ・IL

GENDER
Male
VOICE RANGE

E3~F#5

RELATED CHARACTERS

Waiko (Little Sister)

Sacchan (Love Interest)

Kikenne Uri (Martial Arts mentor [?] )

Tsurune Chiaki(Lei's student, She learn how to speak chinese with Lei)

Ayako (Partner in night job)

AGE

17 (2013)

GENRE
Any
HOMEPAGE
Twitter
WEIGHT
54 kg
CHARACTER ITEM
Ruby (Red Diamond), Sword
CREATOR

かねよ (Twitter) -Edited Design and Lei maker- (CREATOR)

Sari (Twitter) -Design-

HEIGHT / MEASUREMENTS
172
VOICE SOURCE
かねよ
PICTURE LINK LIST
Concept Art
BIRTHDAY
07, June
LIKES
Sacchan, Wushu, Breakdance, Play with his drum, Listen music.
MEDIA LIST
Youtube, Soundcloud
RELEASE DATE
May, 19 2013
DISLIKES
Annoying people (included who make sacchan feel so bad)
SIGNATURE SONG
Rain Stops Goodbye feat Sakuya.
PERSONALITY: He's a Japanese-Chinese boy who was born in Indonesia (but he doesn't know about that, because his parents change it to japan. He always love sakuya whenever she always make lei badmood.
Character Design Edit
Hair color: Black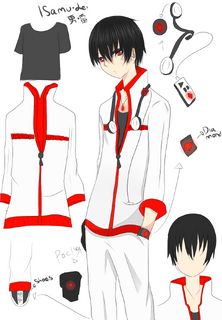 Eye color: Red

Jacket: White and Red

Shirt: Black

Pants: White and Red
Shoes:School Shoes

Nationality: Japanese-Chinese
Voice ConfigurationEdit
Information of ACT 1
Romaji and Hiragana
Language:Japanese.Not support English in here

Coming soon:
New Act
Lei's VCV bank
Chinese bank
He loves Sacchan and Waiko.
He hates Annoying people
He always carry his sword.
Usage Clause Edit
You can use he for RP-ing or something.but keep in character and please not being too OOC(out of character)
Dont Claim As yours.
Do not Change anything from she without the CREATOR permision.
DO NOT PITCH HIS VOICE. However, if you pitch him, the CREATOR will know with the voice.
Community content is available under
CC-BY-SA
unless otherwise noted.