| | | |
| --- | --- | --- |
| |   | ilutiern |

NAME INTERPRETATION:
イルシャーン : Means 'initiate/ending' in a constructed language. Sounds slightly similar to illusion.

TYPE: Japanese UTAU
MODEL: HYMMNOLOID v1
GENDER
Female
VOICE RANGE
D3-F5 (Optimum)
RELATED CHARACTERS
Kieg : Fellow member of the Rotten Girls and Boys Committee


Trass : Partner

AGE

10

GENRE

Fantasy

HOMEPAGE
Project Hymmnoloid
WEIGHT
185g
CHARACTER ITEM
Pepen Doll
CREATOR
ilutiern/serrival
HEIGHT / MEASUREMENTS
5 inches
VOICE SOURCE
ilutiern
PICTURE LINK LIST
BIRTHDAY
April 17
LIKES
Delicious food, BL, cute girls, ethnic songs
MEDIA LIST
Youtube
RELEASE DATE
May 25, 2013
DISLIKES
Insects, arguments
SIGNATURE SONG
PERSONALITY: She's a slightly mischievous but cheerful jokester who loves to perform self-tsukkomi. She loves teasing her male friends and acting overly affectionate or stalker-like to her female friends. She describes her behavior as that of a perverted old man's.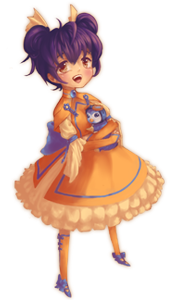 Supplemental Information
Hair color: Black/Dark Purple
Eye color: Brown/Red
Hairstyle: Two high buns with fan-shaped cloth attached to the back of each.
Dress: Qiloli, a westernized qipao with a poofy underdress colored orange with blue details.
Nationality/Race: Chinese-American
Voice Configuration
The voicebanks are Japanese VCV. Sound files are in hiragana. All append/family voice banks are currently in the process of OTO. If you are interested in the raw voice files, please write a message on my wiki page.

Normal+Soft: A sweet and high pitched voice which is also slightly husky. Sounds like a young girl, hence labeled the 'loli voice'. Also includes the SOFT append: a lighter, fragile voice which was original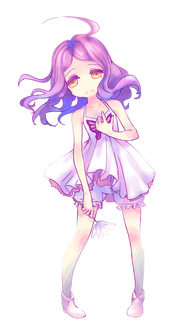 ly intended to be a whisper bank.
Sample(Normal): Harvest
Sample(SOFT): Soleil
-> NOW RELEASED Download
In order to use her SOFT Append, please attach the 軟 suffix to a note.
Wistblade Append: A deeper voice which can sound either androgynous or like a mature woman.
Sample: Night of the Winter Flowers
~link pending~
Known Issues: In Normal, -ye syllables may be pronounced -e. R sounds are intentionally pronounced as L. Some syllables beginning with z may be pronounced closer to j.
Future Content: Plans are made for Loli (higher pitched), Schoolgirl (natural voice), Mistress (mature feminine), Deep (masculine), and Shin (deeper masculine).
Usage Clause
These voicebanks may be freely used for any purpose (private or commercial). However, you MAY NOT:
Use these voicebanks for illegal purposes.
Use these voicebanks in a production to spread a hate message. This includes racism, homophobia, xenophobia, religious persecution, and others. If the song involves these themes for artistic or story purposes and do not reflect your personal views, that is fine, but if your main message is to incite the degradation or abuse of others then I do not give you permission to use these voicebanks.
Claim these voicebanks as your own.
Redistribute these voicebanks, included edited voicebanks, for commercial purposes. You may sell songs which use these voicebanks, but you cannot sell the voicebanks themselves.
Otherwise, you can edit these, use them for a porn song, whatever.
Enjoy!
Community content is available under
CC-BY-SA
unless otherwise noted.