Illya Rikiya

(Japanese: イーリヤリキヤ)

NAME INTERPRETATION:

- The name Illya inspired from Illinois, one of the State in USA. Because Illya was born when Axe (author) was having a trip there.

- The name Rikiya means 'strong one' in Japanese.

TYPE: RIMOCONloid

MODEL: NONE

GENDER
Male
VOICE RANGE
E2~E4
RELATED CHARACTERS

Allya (his genderbend, can be acquired by applying g-20)

AGE
18
GENRE
Mainly: Pop and Ballad
HOMEPAGE
none yet
WEIGHT
65 kg
CHARACTER ITEM
Band aid
CREATOR
axeraaa
HEIGHT
170 cm
VOICE SOURCE
axeraaa
PICTURE LINK LIST
Concept art, full design, deviantART folder
BIRTHDAY
November 4
LIKES
Salad, cats,
MEDIA LIST
YouTube, SoundCloud
RELEASE DATE
November 26, 2012
DISLIKES
Foods that are too sweet.
SIGNATURE SONG
-ERROR
PERSONALITY: Calm and easy-going. He is a determinated person, and will go through anything to get what he wants.. in a good way, of course. He can be jealous sometimes (yes, a bit possessive).
Supplemental Information
Hair Color: Orange-ish brown.
Eye Color: Aqua.
Outfit: (Upper) red undershirt with brown sweater above them.
(Lower) khaki knee-length shorts.
(Footgear) white-grey sport shoes.
Accesories: a band aid on his left knee.
Nationality: Indonesian/Japanese
Voice Configuration
He has CV Japanese voicebank, written in romaji with hiragana alias. 
Genderbend
Apply g-20 and you will get Allya's voice.
Usage Clause
- Don't make him sing too low or too high.
- Don't claim him as yours
- Feel free to edit his oto.ini :D
- Lastly, have fun!
Voicebank
He is developed using UTAU Synth.
Illya Rikiya ACT1 (Mac): click here
Illya Rikiya ACT1 (Windows): click here
Fun Facts
- This is Axe's first UTAU. 
- Axe still haven't thought of a name, design, or anything for him even after his first sample released.
- In his 3rd recording attempt, Axe had flu so he sounds whispery because of this =))
Concept Arts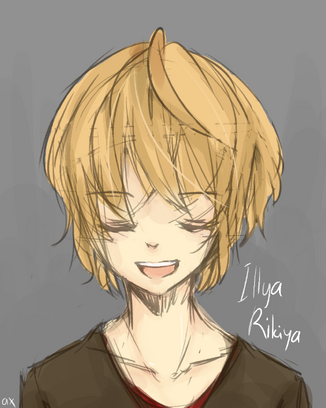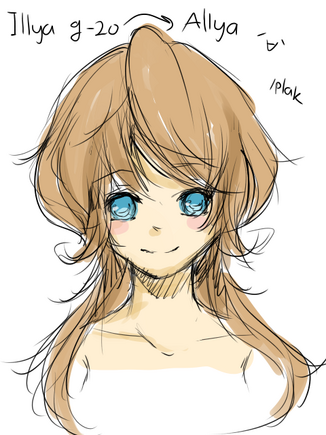 Community content is available under
CC-BY-SA
unless otherwise noted.