Ichigo 3A07 is a voicebank for the UTAU program.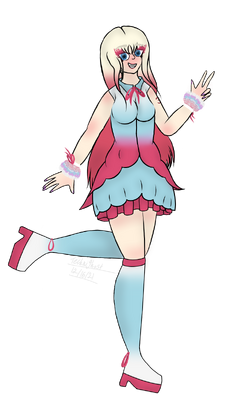 Concept
Ichigo is an artificial intelligence who likes Harajuku fashion and trends. She enjoys strawberry flavored things, especially strawberry milk, and spending time with her older brother.
Etymology
Appearance
Hair: Long blonde that fades to hot pink
Eyes: Ocean Blue
Hight: 5'4
Main Outfit: A vest that fades from blue to pink with a ribbon tied around the collar, a blue skirt with a pink ruffled skirt layered underneath, white, pink, purple, and blue lace cuffs that have ribbons on front, and white boots that fade in and out of blue with pink platforms that are 3 1/2 inches with a ribbon on each heel.
Likes: Strawberry milk/strawberry flavored foods, dressing up, playing video games, traveling, singing, spending time with her friends and her brother, ducks, reading manga, and shopping around Harajuku.
Dislikes: Spicy foods, being compared to others/ being seen as just another vocal synth, her brother being sad, being alone for a long time, eating meat a lot.
Other: 3A07 is printed on her left shoulder in reddish-pink.
Nickname: Strawberry Blonde/イチゴブロンド
Personality And Background
Ichigo is a joyful, bubbly girl who is always looking for love. She, being a hopeless romantic, often has unreal expectations for romance, so her brother often has to bring her back down to reality. Ichigo often drags her brother around, trying to keep him active and happy
Ichigo's wants her voice to reach everyone, but doesn't want to be compared to other virtual singers (like Hatsune Miku). She can get a bit self conscious when no one listens to her music, but she keeps singing in hopes of reaching the person who created her and her brother.
Relations
Voicebank Distribution
Voicebank !! Reclist !! Range !! Description !! DL
Ichigo 3A07 Classis || CV || A3-D5 || "BRE~50 Flags~g-10" || [1]
Ichigo 3A07 New || CV || G#3-C#5 || "BRE~50 Flags g-10" || [2][3]
Additional Information
Terms Of Use
R-18 Content Allowed? Permission Required
Commercial Use of Voicebank Allowed? Permission Required
Commercial Use of Character Allowed? Permission Required
Do these terms apply to derivative characters/voices? Yes, but derivatives must be created with permission
Gallery
Website (Under Maintenance But Working)
The Official Ichigo 3A07 Website