Meaning of name:
Jadiel [God has heard],Hikari [light], Akimoto [Autumn]
Her full name is Jadiel Hikari Akimoto. Hikari has a fake leg, result of an accident when she was little. She is an expert at anything to do with knives. She always carries a knife on her left arm. 'Safety reasons demands it' or so she claims. Hikari likes cakes because she says the extreme sweetness is her escape from the bitterness of life. She actually has a defective tongue , because she eats plain sugar and call it 'really tasteless' unless it is 5 spoons or more, so believe her when she says something is too sweet. She is a hyperactive tomboy. Her full name is Jadiel Hikari Akimoto. She is of mixed blood, hence the name, tallness and fair complexion. Hikari is also very childish, she plays around a lot, prefers sweets to proper meals and hates veggies. She is very mischievous and plays pranks on people around her before running away. She 'tests' most of her pranks on Hikaru, who doesn't mind his 'sister' doing it. She is quite messy and makes Hikaru clean after her, which he does. She does super crazy stuffs and drags Hikaru along with her. Hikari has a black belt [6th Dan] in Taek-won-do and Ju-do. Even without those, she is already ferocious enough. Hikari does NOT hesitate to use all body parts in fighting, including teeth and nails.
GENDER
FEMALE
GENRE

NONE

RELATED CHARACTERS

HIKARU AKIMOTO

http://utau.wikia.com/wiki/Hikaru_Akimoto

[FOSTER BROTHER, CREATOR]

AGE
13
NICKNAMES
HIKA [OTHERS], RIRU [HIKARU]
VOICE PROVIDER
firetransparent
WEIGHT
45 KG
LIKES
SHARP THINGS, SWEET FOOD, HER MASTER, TO SMILE, TO DO CRAZY THINGS
CREATOR
firetransparent
HEIGHT
168 CM
DISLIKES
NOISY, STRICT,BORING OR ANNOYING PEOPLE
VOICE RANGE
UNKNOWN
BIRTHDAY
10TH NOVEMBER
CHARACTER ITEM
KNIFE / CAKE
RELEASE DATE
10 NOVEMBER 2011
LANGUAGES SUPPORTED
ENGLISH, BAHASA MELAYU,JAPANESE AND GERMAN
MEDIA LIST
YOUTUBE

VOICES:

1656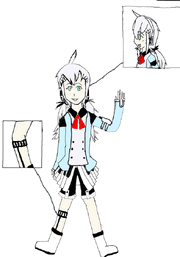 HOMEPAGE: http://cookie-mobster.tumblr.com/
Community content is available under
CC-BY-SA
unless otherwise noted.